For such a time as this: Celebrating Earth Day 2017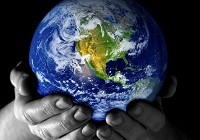 April 22 will mark the 48th annual celebration of Earth Day — a day first set aside in 1970 to encourage support for environmental protection with events held in more than 190 countries around the world.
That first celebration, now nearly a half-century ago, put environmental issues front and center in the U.S. society and politics. With more than 20 million Americans participating in this awareness and advocacy effort, the first-ever Earth Day displayed the grassroots popularity of concern for our planet.
Copy and paste this URL into your WordPress site to embed
Copy and paste this code into your site to embed