Here are seven Bible verses to help with fighting demons during spiritual attacks.
First John 4:4 "Little children, you are from God and have overcome them, for he who is in you is greater than he who is in the world."
Reading the last three books of the Apostle John you sense his tenderness in writing, much like a good father would write to his own children. He was encouraging them about the persecution that was going on and the evil one who is in the world was not greater than the One Who lived in them, and that would be the Holy Spirit. God and Satan cannot occupy the same place at the same time and neither can the demons but John's point is the Spirit of God is greater than the "little g" god of this world (2nd Cor 4:4).
John 12:31 "Now is the judgment of this world; now will the ruler of this world be cast out."
When was this "now" that Jesus was speaking about the judgment of this world? It was on the night of His betrayal, the institution of the New Covenant with the Lord's Supper, and His coming suffering and death. That night sealed Satan's fate. After all this time, God had crushed the serpents head by Jesus (Gen 3:15).
First John 2:13 "I am writing to you, fathers, because you know him who is from the beginning. I am writing to you, young men, because you have overcome the evil one. I write to you, children, because you know the Father."
Here again the Apostle John is trying to encourage the church by telling them that they have no fear; they have already overcome the evil one through Jesus Christ. Because they know the Father, they know the Son and they have placed their trust in Him and "Blessed is the man who trusts in the LORD, whose trust is the LORD" (Jer 17:7), "For the Scripture says, "Everyone who believes in him will not be put to shame" (Rom 10:11).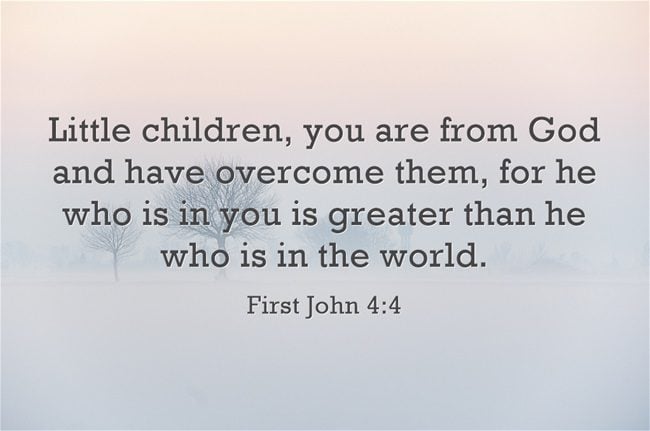 First John 5:4 "For everyone who has been born of God overcomes the world. And this is the victory that has overcome the world—our faith."
John writes from the perspective of victory, speaking as if it is already secured and it is; in Jesus Christ! Who but Jesus can conquer the grave and because we have placed our trust in Him, we have overcome the world. This being born again is in the Greek, "born from above" (John 3:3-8) so we must give all glory to Christ.
First John 3:19-20 "By this we shall know that we are of the truth and reassure our heart before him; for whenever our heart condemns us, God is greater than our heart, and he knows everything."
As we read in Job 1:12, God limits what Satan can and cannot do and he cannot take the life of a human being. God appoints that day Himself (Job 14:5, 12:21; Eccl 3:2), so that is true of Satan that he cannot take a human life, then the same must be true about demons. When Jesus met a demon possessed man who chains couldn't hold, "fell down before" Him (Mark 5:6) showing even the demons are subject to Christ so they "begged him, saying, "Send us to the pigs; let us enter them." So he gave them permission" (Mark 5:12-13) clearly showing they needed permission from God first, before they could do anything. By the way, the demons where the first evangelists, so to speak, as they were the first to declare "Jesus, Son of the Most High God" (Mark 5:7).
James 2:19 "You believe that God is one; you do well. Even the demons believe—and shudder!"
Don't take these demons lightly as the Apostle Paul wrote to the Corinthians that "what pagans sacrifice they offer to demons and not to God. I do not want you to be participants with demons" (1st Cor 10:20) and you and I "cannot drink the cup of the Lord and the cup of demons. You cannot partake of the table of the Lord and the table of demons" (1st Cor 10:21) not that we would but what about those who are still blinded by the god of this world (2nd Cor 4:4).
Luke 22:31-32 "Simon, Simon, behold, Satan demanded to have you, that he might sift you like wheat but I have prayed for you that your faith may not fail. And when you have turned again, strengthen your brothers."
Jesus indicates that Satan had asked permission to sift Peter like wheat, meaning that Satan wanted to have him but needed God's permission, however Jesus prayed for Peter so that his faith wouldn't fail and even though he later denied Jesus three times, He restored him and forgave him. Satan may ask to sift us too but Jesus prays for us as well (John 17:20-23) and can do no more than God will allow.
Conclusion
The Apostle Paul would plead with you to "Put on the whole armor of God, that you may be able to stand against the schemes of the devil. For we do not wrestle against flesh and blood, but against the rulers, against the authorities, against the cosmic powers over this present darkness, against the spiritual forces of evil in the heavenly places" (Eph 6:11-12) but we must "Submit [ourselves] therefore to God. Resist the devil, and he will flee from [us]" (James 4:7).
Article by Jack Wellman
Jack Wellman is Pastor of the Mulvane Brethren Church in Mulvane Kansas. Jack is also the Senior Writer at What Christians Want To Know whose mission is to equip, encourage, and energize Christians and to address questions about the believer's daily walk with God and the Bible. You can follow Jack on Google Plus or check out his book Teaching Children the Gospel available on Amazon.