Persecution of Christians has been growing around the world, but what about in the U.S.? Are Christians being persecuted in America?
Expect Persecution
Christ-followers, which is a better description for the person who has trusted in Christ, can expect persecution. It shouldn't surprise us because the Apostles, prophets, evangelists, and of course Jesus, was persecuted for preaching the gospel. Jesus never promised you "might be" persecuted but in fact, you will be, so it's not a question of if, but when and how often you are persecuted for your faith in Christ. Jesus was adamant about this when He said, "Remember the word that I said to you: 'A servant is not greater than his master.' If they persecuted me, they will also persecute you. If they kept my word, they will also keep yours" (John 15:20) because "A disciple is not above his teacher, nor a servant above his master" (Matt 10:24). From some of the posts or comments on this and other articles Christians write you can see this being fulfilled by the vindictive and vicious comments non-believers leaven, so "A disciple is not above his teacher, nor a servant above his master" (Matt 10:24), so "If the world hates you, know that it has hated me before it hated you" (John 15:18). We have to expect to be "hated by all for my name's sake. But the one who endures to the end will be saved" (Matt 10:22).
Growing Persecution
Persecution is growing around the world, even if it's not as noticeable in the U.S. and other parts of the West, but here too it's growing in ways we might not be able to see. As recently as 2013, persecution doubled over the previous year, and according to an annual survey by Open Doors, which is a non-denominational ministry that monitors the persecution of believers and supports persecuted Christian's worldwide, hardline Islamist regimes and Islamic terrorists were behind most of the slaughter. Some of the worst persecution came from Somalia, Syria, Iraq, Afghanistan, Saudi Arabia, the Maldives, Pakistan, Iran, and Yemen and all of these are Islamic countries. One Pakistani Christian couple was burnt to death in a kiln by enraged Muslim villagers for what the Muslims believed to be disrespecting the Koran by simply using the Bible and not the Koran. North Korea was listed as the most dangerous nation for Christian's but Nigeria came first for the number of Christians killed for their faith, recording more than half of the 7,000-plus killings across the globe, however the six nations where most Christians were killed for their faith in Christ were in sub-Saharan Africa and in this order were Nigeria, Central African Republic, Chad, Democratic Republic of Congo, Kenya and Cameroon. A recent a Pew Forum study on Religion and Public Life reported that Christianity faces restrictions and hostility in more than 110 countries around the world and this is growing, but it already includes far more than half of the nations in the world.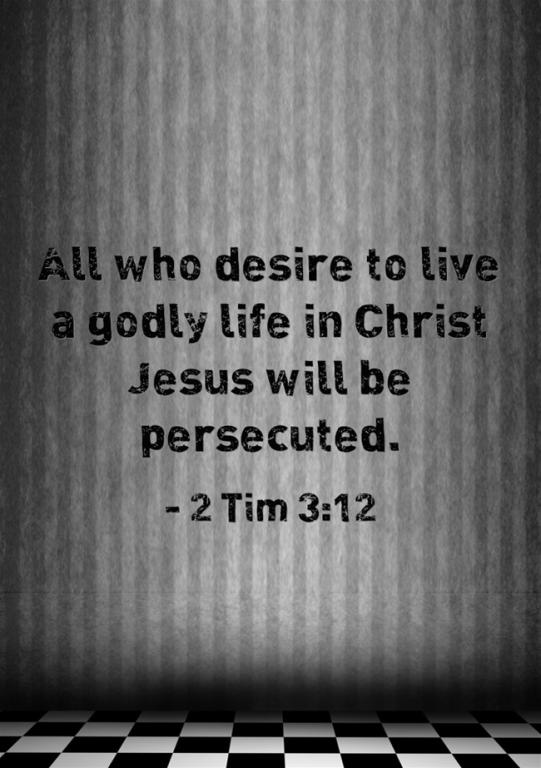 Persecution in America
Even the Apostle Paul said he was "persecuted, but not forsaken; struck down, but not destroyed" (2nd Cor 4:9) so he knew it was to be expected. According to Christian Solidarity International, more Christians died for their faith in the twentieth century than at any other time in history and that trend is escalating. Of course, the persecution we face in the U.S. is nothing like that of other nations around the world were their government does little or nothing to prevent it, and in most cases actually support it by their "hands off" policies. In Houston, Texas, it was reported that one woman was ordered by local police to stop handing out gospel tracts to children who knocked on her door during Halloween.  Even if that were true, American Christians don't know what real persecution is.  Persecution is not being restricted from handing out Bible tracts at public schools. Part of the persecution comes in a less than honest way where textbooks are being revised by historians who apparently have an axe to grind against religion. Dr. Paul Vitz, then professor of psychology at New York University, worked with a committee that examined sixty social studies and history textbooks used in public schools across the United States and what the committee found was amazing. Almost every reference of Christian influence in early America was systematically removed. Sadly, historical revisionists are allowed the freedom to print lies of "omission" by removing the Christian heritage of this nation.
No Persecution?
If you are not being persecuted for your faith in Christ then you are either on a desert island and no one is there to persecute you or you are not living any differently from the world around you…or you are not a Christian at all. If you are living a godly life you will be persecuted, make no mistake about it, because "all who desire to live a godly life in Christ Jesus will be persecuted" (2nd Tim 3:12). Even the Apostle Paul admits, "I persecuted this Way to the death, binding and delivering to prison both men and women" (Acts 22:4), and later, he himself was the one who was being persecuted. Don't get me wrong, it's not a bad thing to be persecuted. Jesus tells us "Blessed are those who are persecuted for righteousness' sake, for theirs is the kingdom of heaven" (Matt 5:10) so "Rejoice and be glad, for your reward is great in heaven, for so they persecuted the prophets who were before you" (Matt 5:12). There is no doubt that "You will be hated by all for my name's sake" (Luke 21:17), "But all these things they will do to you on account of my name, because they do not know him who sent me" (John 15:21).
Conclusion
When the Apostles were being persecuted they were brought before the Sanhedrin council and commanded to stop preaching the gospel, but the Apostle Peter told them, "We must obey God rather than men" (Acts 5:29), so after "they had called in the apostles, they beat them and charged them not to speak in the name of Jesus, and let them go" (Acts 5:40). How did they react? Did they contact the ACLU or complain to the Roman authorities? No, "they left the presence of the council, rejoicing that they were counted worthy to suffer dishonor for the name" (Acts 5:41). If you are persecuted for believing in Jesus, then you are in good company, for so did they the prophets, the Apostles, and of course the Lord Jesus Christ Who the murdered.
Article by Jack Wellman
Jack Wellman is Pastor of the Mulvane Brethren Church in Mulvane Kansas. Jack is also the Senior Writer at What Christians Want To Know whose mission is to equip, encourage, and energize Christians and to address questions about the believer's daily walk with God and the Bible. You can follow Jack on Google Plus or check out his book Teaching Children the Gospel available on Amazon.