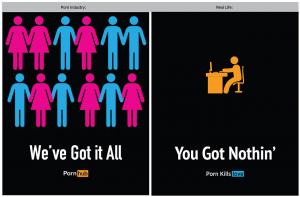 An open letter to my seniors about how porn educates us to (not) understand the value of other people, published by the Chastity Project:
When we use others to satisfy our instinctual lusts, it's as if our bodies are telling lies. Lies can impact not only our personal lives, but also impact society in serious ways. Look at the African slave trade. Human beings were reduced to objects: they were used for labor without compensation; they were bought and sold; beaten and killed. The porn industry, according to many,  is said by many to be a modern form of slavery because of how the actors are viewed and treated-as less than human entities that are meant to be used by others.

Above all, pornography enslaves the viewer. The more you get used to "breaking off pieces" of people, the more your capacity to see the fullness of the other person is weakened; your ability to know them gets "dumbed down." Just like when you're slacking at the gym—if you don't give your all at a work out, your muscles will get weaker. And when you don't maintain a healthy diet, your body will struggle to maintain its strength. When you "reduce" the "fullness" of your body's fitness, you won't be able to keep up the endurance to enjoy whatever sports you play or activities you take part in.

In the same way, when you watch porn, you weaken your capacity to use your reason. Porn feeds your instinctual lusts, and doesn't engage your reason. Reason gives you clear vision, while your instinct makes everything blurry. Without reason, you can't have real and meaningful relationships with other human beings. Porn traps you in a fantasy world which is not real or meaningful. Only when we look at reality using our reason can we find the presence of God—who promises to fulfill your desire in a way that  surpasses your wildest fantasies!
Side note: Here's an awesome resource I've been using in my classes. Fight the New Drug has great information for young people to learn more about the negative effects of porn, coming from a secular perspective.