This post is a response to a review of Jamie Quatro's new novel "Fire Sermon" which appeared in the March 2018 edition of the Atlantic Monthly.
Claire Dederer writes that Jamie Quatro's spiritualization of erotic desire (or her "religious occupation") in her new novel Fire Sermon "felt like a spit shine, a way of elevating the down-and-dirty material." I wonder if she's familiar with the centuries-old tradition of blurring the lines between eros and agape (Divine or unconditional love) in Christian theology and poetry. Saints as far back as John of the Cross (who is mentioned in Dederer's review) and as recent as John Paul II have meditated on the interconnectedness of these seemingly incompatible forces.
Perhaps more noteworthy is the recent trend in Catholic theology toward phenomenological apprehensions of Christian experience, in which desire plays a central role. One particular theologian, the late Luigi Giussani, writes that God places a desire in each human, a desire so strong that he compares it to a "fire of an infinite dynamism." It is only through getting to the bottom of this infinite longing that we discover the need for the Infinite himself.
Giussani's funeral Mass was presided by none other than Cardinal Ratzinger, who dedicated his eulogy to the man whose "heart was wounded by the desire for beauty." Ratzinger made reference in the eulogy to the 14th century Greek theologian Nicolas Cabasilas, who describes Christ as "the Bridegroom…who has sent a ray of beauty into [our] eyes." This ray penetrates our hearts so deeply that it "inflicts a deep wound," forcing us to yearn for the Bridegroom's infinite love.
This image of penetration by the Divine is reminiscent of several other less-than-prudish religious figures. Teresa of Avila, a 16th century Carmelite, claimed to have several ecstatic experiences of total union with Christ. The first of these experiences was memorialized in the infamous marble statue by GianLorenzo Bernini, in which Teresa appears to be having an orgasm. Could the arrow that's penetrating her heart be a phallic symbol, indicating the neurotic repressive tendencies of medieval celibates? Or perhaps coital penetration itself is a sign of that greater union which all human loves point to and in which they find their fulfillment.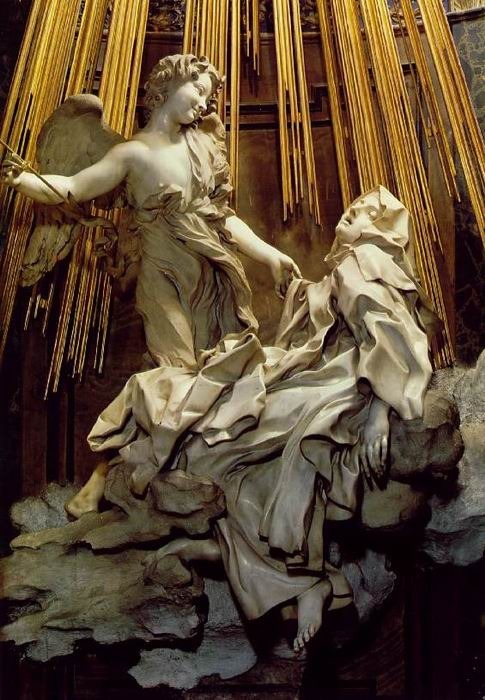 John Paul II's Theology of the Body relies on foundational biblical texts like the Creation account in Genesis and the Song of Songs to make the claim that our erotic desires are not only a sign of the union between the individual soul and God, but that it participates in the experience of Christ's self-sacrificial love on the Cross.
That being said, what exactly are we supposed to do with our ceaseless yearning for love and happiness…especially when we've already made a commitment to another person? Theologian Julian Carron recommends in his book Disarming Beauty that we place all human loves (both romantic and platonic) within "the ambit of a Greater love."
It's natural to be attracted to people who aren't are our spouses. The very temptation of adultery testifies to the infinity of our heart's desire. Carron would suggest against "suffocating" our desire for a new lover by ignoring it, for that desire itself reveals the truth of our identity as human beings. At the same time, pursuing an adulterous fling would only result in the desire for even more flings and thus further dissatisfaction. Rather, we should pursue the living spring of eternal love, Who promises that in Him we will "thirst no more." Christ's model of life-giving and gratuitous love can wash out the dry spells of marriage when spouses allow it to inform the way they live with each other. In this way, the spouses become signs that "arouse each other to recognize the One toward whom they both walk."
Interestingly enough, Giussani would recommend this same "precept" to those who are committed to a vocation of celibacy, whether priestly, religious, or lay. Erotic desire is never a problem, at least not in the negative sense of the word. When a celibate person falls in love, it's an opportunity for them to verify the true nature of their call…to enter more deeply into the mystery of the vow they made to Christ. Giussani goes as far as suggesting that the object of a nun's desire is a sign given to her by God: "This is a sign that God is giving me to make me understand what Jesus is for me."
Neither repression nor permissiveness will fulfill the nun's erotic longing. True "possession" of the people we love requires that we look at the other "against the backdrop of their destiny." Surely the nun can chuck her religious vocation out the window and seek bodily union with her crush, but this fleeting experience of passion and union will quickly fade away, leaving her thirsting for more. The nun will find her thirst sated only when she sees her love interest according to the plan God has for him. The more she affirms this plan…the more she supports him in his journey toward it (be it by fraternal accompaniment or by prayer from afar), the deeper she enters into communion with him.
Quattro's "religious preoccupation" is hardly unrealistic or far-fetched. But perhaps a sequel to the novel could explore a realistic solution to the problem of "illicit" desire.