And I tell you that you are Peter, and on this rock I will build my church, and the gates of Hades will not overcome it.
Why would God entrust his Church to such a flawed human being? Wouldn't he rather pick one of his more morally consistent or level headed followers for the job?
When we sin, we usually try to find ways to "fix" ourselves. But Jesus wanted the leader of His Church to be someone who reminded us all that we fall short of "goodness," and that the truly moral man or woman is not the one who always "gets it right," but is the one who responds "yes, Lord, you know I love you," even after having betrayed him.
The scandal of mercy continues to shock us 2000 years later.
The recent news about clergy sex abuse cover ups have forced me to dive deeper into the Church's claim to authority. How could an institution that is so full of corruption and lies continue to be the universal sacrament of salvation? Did Christ really mean that nothing, not even abusive priests and hierarchs, could prevail against his Church?
I question this paradoxical promise not only in light of the sins of the Church's shepherds, but also when I look at my own sins. No, I can't say I've ever done anything as heinous as sexually abusing anyone. But neither can I claim that my track record is devoid of hypocrisy and deceitfulness. I often ask, "Christ, how can you continue to work with me, knowing how selfish I am? How can you put up with me knowing I'll keep doing the same things again and again."
This paradoxical promise, this mysterious mercy, are eternally baffling.
I know many people are considering leaving the Church because of the abuse cover ups. Though I don't feel it's my place to try to convince them to stay, I must ask if they've ever spent time meditating on "the paradox." Sure, other ecclesial communities may be less fraught with sex abuse scandals, but will the scandal of mercy disappear? And ultimately, are the evil actions of some priests enough to destroy Christ's promise to Peter?
It's my prayer that those people will stick around to ask those questions with the rest of us…especially those who have been abused. Christ needs them to work as channels of his promise and as vessels of renewal. Without their voices, without their stories, who will cast out the falsehood and evil forces brought in by some of the Church's immoral shepherds?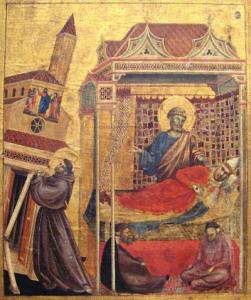 I pray to St. Francis that those who have a vision for a holier Church will stay to help bring about the reforms that She needs so desperately. And I pray that those who have been abused will begin to share their stories, and that the hierarchy will offer opportunities for their voices to be heard. Without the faith of the flock, the dazzling light of Christ's love–thought it will never be totally vanquished–will begin to fade into a flickering flame…the vibrant voice of his promise will be reduced to a trembling murmur.