Rather than fighting to "Keep Christ in Christmas," I realized how much I need to "Seek Christ in Christmas."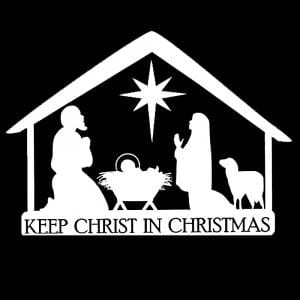 Since I was little, I couldn't wait until after Thanksgiving to start setting up the Christmas tree and lights, to play Christmas music and to buy presents at the school's Holiday shop. I remember rolling around in bed on Christmas morning, unable to sleep, anxiously waiting to see if Santa ate the cookies I left out, and to unwrap the gifts under the tree.
Once gifts were exchanged and I got to playing with my new toys, around midday, it all hit me at once—the season that had filled me with such anticipation and excitement is now over. That joyful day was always tinged with sadness. Christmas disappointed me because it led me to the peak of a mountain only to throw me back down. "Now to wait until next year…" I'd groan to myself.
My experience of Christmas started to change after I had a meaningful encounter with a community of friends in college who inspired me to enter the Catholic Church. I remember my first midnight Mass as a Catholic. By the singing of the Gloria, my heart welled up with joy. For the first time I recognized what I had been waiting for all those Christmas mornings during my childhood. The decorations, food, music, and gifts were not really what I was waiting for, but they were signs—road markers along the way that pointed us closer and closer to the moment that is really worth getting hyped up over.
The event of Christmas, the coming of the Infinite in the flesh, offers us the promise that Someone responds to our longing for beauty, love, justice, truth and meaning. And that same Someone promises to be with us in our sadness…in that emptiness we feel after we realize that no good thing lasts forever. And it was the relationships with those friends that allowed me to get a taste of that redemptive promise in the flesh.
I started to see that the joy of receiving Jesus stayed with me well after the moment of opening presents on Christmas morning. Instead, that joy transformed and renewed the way I experienced the "aftermath." I saw my family members who came over for dinner through a new light, and even the mundane things like cleaning up afterwards and taking down the tree became more meaningful because they became chances to relive the memory of Christ coming down into the flesh to accompany me on my life journey.
Last year on Christmas morning I woke up early, unable to sleep because of recurring thoughts that were plaguing my mind. I was sad even before going down to the tree to open presents. I couldn't stop thinking about the mistakes I kept making at work. I felt sad for certain family members who were dealing with depression and had tension with others in the family. I was bothered by the idea that so many people would celebrate Christmas without the awareness that Christ loves them, and others, because of poverty and injustice, would be unable to even celebrate Christmas.
Rather than dwell on that premature sadness, I decided to watch Pope Francis' Christmas homily that was given only a few hours before I had woken up. He started by pointing out that "Bethlehem" literally means "house of bread." Francis continued,
There God, in the house of bread, is born in a manger. It is as if he wanted to say: "Here I am, as your food". He does not take, but gives us to eat; he does not give us a mere thing, but his very self…The tiny body of the Child of Bethlehem speaks to us of a new way to live our lives: not by devouring and hoarding, but by sharing and giving…By feeding on him, the bread of life, we can be reborn in love, and break the spiral of grasping and greed."
This made me start to think about my own hunger…for beauty, affirmation, freedom. What a gift, that God came to feed my hunger—not just spiritually, but in the flesh…in a concrete, tangible way. But how? How will Jesus continue to feed my hunger…and the hunger of so many people who don't already know of His love?
The shepherds of Bethlehem also tell us how to go forth to meet the Lord. They were keeping watch by night: they were not sleeping, but doing what Jesus often asks all of us to do, namely, be watchful…The Lord loves to be awaited, and we cannot await him lying on a couch, sleeping. So the shepherds immediately set out: we are told that they "went with haste."…They set out; they leave their flocks unguarded; they take a risk for God.
I decided that rather than wallow in my sadness, I'd transform it into hunger, and let it propel me to go out "with haste" to find Christ. Rather than looking for Him under the tree or in the fridge, I wanted to find him in the way Francis spoke of: in the acting of feeding.
I asked my mom if she wanted to come with to bring food to the homeless at the closest train station. As we drove over, I asked Christ to feed me through this act of feeding. As soon as we offered the first person some cookies, a swarm of people crowded around us. It turned out that we didn't have enough cookies for everyone. "I'm sorry sir, it looks like we ran out."
"But at least you came! Merry Christmas!" I was immediately reminded of how limited I am, of how this simple gesture of kindness is not enough to help everyone in need. That moment of realization highlighted the true beauty of Christmas: Christ comes to me as a small, powerless baby. In front of my own weakness and powerlessness, the omnipotent deity looks not to overpower or "fix" me, but to stand in solidarity with me, asking gently, "will you receive me as I am? Will you let Me be your food?"
While the greeting of "Happy Holidays" does little to fill the emptiness and sadness that many of us feel as soon as the festivities start to die down, I feel like the billboard/bumper sticker campaign to "Keep Christ in Christmas" won't help that much either. For me, instead I'll choose to "Seek Christ in Christmas."