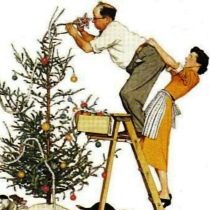 Today is Black Friday, America's celebration of Capitalism and the unofficial start of the Christmas season.
I have a couple of seasonal posts that I wanted to remind you about, in case anyone missed them.
And while we're in the season of Thanksgiving, let me add that I'm grateful to the many people who come here. Together, we've passed one million total views. This blog is here because you're here. Thank you!
We cannot know that Santa definitely doesn't exist.
This is technically true.
But what's your best guess?
Go on. Be bold.
— Ricky Gervais