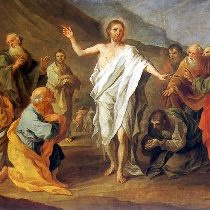 Christianity continues to change with the times—it has 42,000 denominations and counting—and I nurture the hope that it will adapt to become more civilized, at least in the West. Maybe a strain could simply be cultural Christianity, a philosophy or way of life with no supernatural baggage. Millions of practicing "Christians" don't actually believe, and they deserve to keep the good things of Christianity while discarding the unsupportable claims.
One thing holding Christianity back is the Great Commission. This was the final charge of Jesus to his disciples before he returned to heaven. "Go and make disciples of all nations," he tells them in Matthew 28:19. Sounds like Christians are obliged to actively get out there and spread the meme. But that stands in the way of Christianity becoming a healthy worldview instead of the dogmatic busybody that conservative politics has made it in America.
But are Christians' hands really tied? Consider who Jesus was talking to. He wasn't talking to today's lay Christian; he was addressing the disciples. You flatter yourself to imagine that you're one of the Twelve, and the charge of the Great Commission was placed on your fragile shoulders.
Nevertheless, most Christians still hear that, yes indeedy, Jesus was addressing them. Let's pursue this and see if it holds up.
The lesser commission in Matthew
There are several variations of this assignment of Jesus. An earlier commission in the same gospel also charges the disciples to hit the road, but this time Jesus gave them superpowers. They had "authority to drive out impure spirits and to heal every disease and sickness" (Matt. 10:1). If the commission comes with power to help carry it out but Christians today don't have those powers, then they probably weren't given the commission either.
And even more superpowers
In another gospel, Jesus sends the disciples on their way with a power you'd think would be reserved for God himself: "If you forgive anyone's sins, their sins are forgiven; if you do not forgive them, they are not forgiven" (John 20:23).
We see something similar in Matthew. Jesus said to the disciples, "Whatever you bind on earth will be bound in heaven, and whatever you loose on earth will be loosed in heaven" (Matt. 18:18). Binding means to forbid and loosing means to permit, both by an indisputable authority.
The disciples weren't ordinary chowderheads like you and me. They obviously had superpowers not available to the rank and file. I wonder then how Christians can imagine they share the disciples' assignment.
Four reasons to ignore the Great Commission
Many Christians are uncomfortable with the idea that they make baby Jesus cry by not witnessing to strangers. I'd like to empower them by showing why this isn't their fight.
1. Jesus wasn't talking to you. The Great Commission was given to the apostles. Don't flatter yourselves—you're not Matthew or Peter or John.
2. Apologists acknowledge the difference. Some apologists capitalize on this and use it to their advantage.
Here's the problem they face. The book of Acts shows Paul healing a lame man, Ananias curing blindness, and Peter raising the dead. "Everyone was filled with awe at the many wonders and signs performed by the apostles."
What about the incredible power of prayer? In Matthew, Jesus says, "Ask and it will be given to you; seek and you will find; knock and the door will be opened to you." In Mark, Jesus says, "Whatever you ask for in prayer, believe that you have received it, and it will be yours." In John, Jesus says, "He who believes in me will also do the works that I do; and greater works than these will he do."
Trouble is, it doesn't work that way for Christians today, and everyone knows it. Many apologists will avoid the problem by saying that these remarkable claims were relevant only to the disciples. That works, but then the Great Commission logically falls into the same category.
3. The Bible makes a nutty demand? Then rationalize away the demand! Christians easily dismiss aspects of the Bible that don't translate well into modern Western society—God's support for slavery, polygamy, genocide, human sacrifice, and so on. God's position is clear, but loftier principles override the Bible, and Christians (correctly) take the sensible approach where there are conflicts. If pushing your beliefs on others also doesn't seem right, maybe that's because it isn't.
And what's the point of evangelization anyway? Fundamentalists will tell you that it's the Holy Spirit that does the work, not your evangelization, "so that no one can boast" (Ephesians 2:8–9). Surely the omnipotent Holy Spirit has the capability to save souls and isn't constrained by what people do or don't do.
4. It's not everyone's job to evangelize. Paul says that we have different gifts (1 Corinthians 12:4–11). You may simply not be an evangelist. And don't take on the teaching role lightly: "Not many of you should become teachers, my fellow believers, because you know that we who teach will be judged more strictly" (James 3:1).  
There's no need for the Great Commission
Christians have been told that it's their duty to save people. Just imagine if your neighbor went to hell simply because you were too lazy to convince him that he was worthless scum who needed what your church was selling.
Paul makes clear that this fear is unfounded. Comparing the symmetry of Adam's sin with Jesus's sacrifice, Paul said, "For just as through the disobedience of the one man the many were made sinners, so also through the obedience of the one man the many will be made righteous" (Romans 5:19). The price has been paid—you're good. (Thanks to Greg G. for this insight.)
We see a similar attitude in the parable of the sheep and the goats in Matthew 25. The King gives eternal life to those who lived honorable lives. Evangelism and mandatory beliefs aren't necessary.
Christians, discard the great baggage of the Great Commission. There's work enough to just live your life as a good Christian. If someone asks, you can give the "reason for the hope that you have" (1 Peter 3:15).
If instead you want to follow the lead of Jesus, he spoke at length about helping the disadvantaged. That's a charge that makes a lot more sense.
Take from the church the miraculous, the supernatural,
the incomprehensible, the unreasonable,
the impossible, the unknowable, the absurd,
and nothing but a vacuum remains.
— Robert G. Ingersoll
Photo credit: Wikipedia