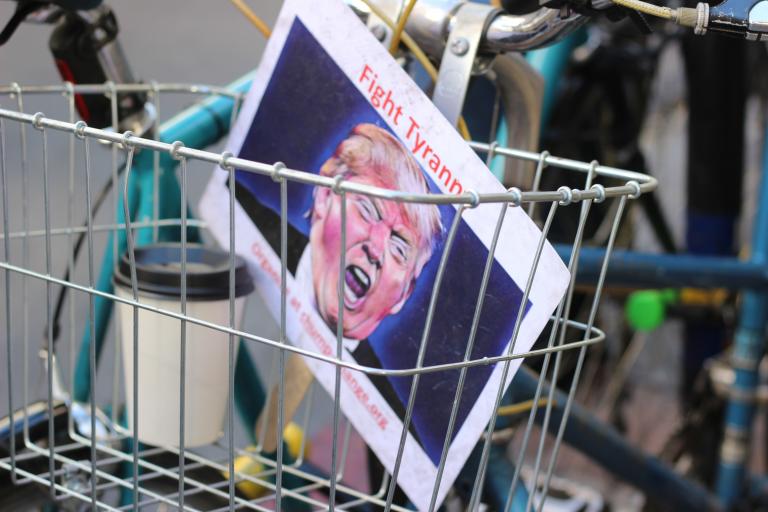 Let me start off by saying this: I don't believe the collective "we" really wants to understand one another. Understanding the Other means: we must connect with them. If we connect with them; we humanize them. If we humanize them, we cannot demonize them or use them as our scapegoat.
Them. Them. Them.
We rely on them to blame, shame, and target. It is them who bears the burden of our anger and inequality. It is us who are righteous in our judgments of them. It is them who think differently and it is us that will offer new ways to shut them down, and grant equality for all.
If you dig deep enough, you'll see that most of the information we use to defend our positions —to self-righteously advocate for why everyone should think exactly as the way we do—depends on pitting us versus them.
The current trend (in the news feeds of my social media accounts) illustrates a gross misunderstanding of those who support border-protection policies. Attacks are launched at anyone who dares shows a remote regard for the protection of the institution that is the United States.
And since the United States depends on a united plan-of-action to ensure social unity; we must address the fundamental methodology involved in obtaining such unity: understanding.
To understand them— here in this case, to understand "Trump Supporters," Conservatives, Republicans, the right; we have to dig deep and go back to the foundation.
A Moral Foundation
We think so many favor and support government actions to detain and deport those who are not citizens of this country. Contrary to the assumptions floating around the social-media sphere, most conservatives are not opposed to immigration reform at all. But yes, many people—all over the spectrum—hold to the idea that those who come, ought to do so "legally".  Still yet, some favor the idea of open borders.
The most common disagreement comes down to mode of operation. It's not that conservatives are adamantly opposed to any and all change. It's not that conservatives are inherently racist or xenophobic. It's not even that conservatives are "boot-lickers". Conservative voters simply value some things more than progressive voters.
In the sophisticated 2012 bestseller The Righteous Mind: Why Good People Are Divided by Politics and Religion, Jonathan Haidt breaks down the five moral foundations of the political spectrum. I turned to Haidt's book—one that I keep handy for reference— to see if it could answer some of the questions I was asking myself:
What keeps some people from welcoming the diversity and change? Is it rooted in closet-racism? Are some people just inherently xenophobic? Is it environmental influence? Or is it something more?
The thing of it is, I want to understand why people support border protection policies. I want to understand what principle moral foundations I have not considered in my own demonization of others.
Haidt turns to evolutionary biology to help understand why the moral foundations of politics includes the sanctity/degradation foundation and also, why the emotion of disgust plays a role in all of this.
After laying out the concept of the difference in programming a Koala bear has versus a human, we are left to understand why humans have to learn what to eat rather than "just know" what to eat like other animals do. The advantages of the omnivore are enormous. But the disadvantage is that new foods can be toxic. "The 'omnivore's dilemma' is that omnivores must seek out and explore new potential foods while remaining wary of them until they are proven safe."
"Omnivores…go through life with two competing motives: neophilia (the attraction to new things) and neophobia (the fear of new things). People vary in which variation is stronger…
Liberals score higher on measures of neophilia (also known as "openness to experience"), not just for new foods but also for new people, music, and ideas. Conservatives are higher on neophobia; they prefer to stick with what's tried and true, and they care a lot more about guarding borders, boundaries, and traditions."
Here, Haidt reiterates what many of us may know; the spectrum distinguishes our values. Progressives like new things, Conservatives are wary of new things. But what does disgust have to do with this or immigration policy? Haidt explains further that:
"The emotion of disgust evolved initially to optimize responses to the omnivore's dilemma. Individuals who had a properly calibrated sense of disgust were able to consume more calories than their overly disgustable cousins while consuming fewer dangerous microbes than their insufficiently disgustable cousins. But it's not just food that posed a threat: when early hominids came down from the trees and began living in larger groups on the ground, they greatly increased their risk of infection from each other, and from each other's waste products. The psychologist Mark Schaller has shown that disgust is part of what he calls the "behavioral immune system"- a set of cognitive modules that are triggered by signs of infection and disease in other people and that make you want to get away from other people. It's a lot more effective to prevent infection by washing food, casting out lepers, or simply avoiding dirty people than it is to let the microbes into your body and then hope that your biological immune system can kill every last one of them.The original adaptive challenge that drove the evolution of the Sanctity foundation, therefore, was the need to avoid pathogens, parasites, and other threats that spread by physical touch or proximity. The original triggers of the key modules that compose this foundation include smells, sights, or other sensory patterns that predict the presence of dangerous pathogens in objects or people. (Examples include human corpses, excrement, scavengers such as vultures, and people with visible lesions or sores.)"
We are heavily influenced by images in our society. Everything is flashed in front of us in an instant across screens of all sizes. We
see
the after-effects of flu pandemics and infectious disease epidemics that strike communities and countries. We understand the debilitating effects of untreated and under-treated medical concerns. We know that so many don't have access to proper care facilities (both in predominately black communities and rural communities).
We are a nation that screams: Health care is a basic human right! Could it be that those who support border protection policies are concerned for the personal health of those already here? Could it be that the message has been taken further beyond just consideration— that health care is a basic human right?
What would that mean for a conservative thinker? Perhaps that, in understanding that something is of intrinsic value, viewed as a basic human right—like life, liberty, property; then it must be protected. If we do not stand for our basic human rights, then what do we stand for?
Many could simply conclude that because we have antibiotics that this foundation should be rejected. That it's merely an easy fix now thanks to the advancements of modern medicine, and that conservatives should stop defending their precious borders.
But if we take away this foundation— rooted in the understanding and necessity of the emotion of disgust— we are also making it easier to dismiss all that is sacred. Haidt argues against removing this moral foundation:
If we had no sense of disgust, I believe we would also have no sense of the sacred. And if you think, as I do, that one of the greatest unsolved mysteries is how people ever came together to form large cooperative societies, then you might take a special interest in the psychology of sacredness. Why do people so readily treat objects (flags, crosses), places (Mecca, a battlefield related to the birth of your nation), people (saints, heroes), and principles (liberty, fraternity, equality) as though they were of infinite value? Whatever its origins, the psychology of sacredness helps bind individuals into moral communities. When someone in a moral community desecrates one of the sacred pillars supporting the community, the reaction is sure to be swift, emotional, collective, and punitive."
"The psychology of sacredness helps binds individuals into moral communities." Is this a key component to understanding the Other? Or rather, the Conservative?
Without a regard for sacredness; without our disgust emotion signaling messages to our brains, which keeps us alert to threats and danger; we wouldn't have the wherewithal to stand up and defend our basic human rights. It is because we know our individual rights are sacred that we know we need to act to defend them. Isn't that what compels millions to vote?
We actually all want the same thing. We want our basic human rights to be ensured and protected. It is the responsibility of the government to protect our rights and ensure that no other individual infringes upon our rights. Right? We want equality for all rights, don't we?
What are we left with to consider?
Republican candidates "trigger a full range of intuitions described by the Moral Foundation Theory."
Democrats narrow their own range of intuitions and appeals to moral foundations.  What Jonathan Haidt calls "the Conservative Advantage", is the advantage Republicans generally maintain when appealing to moral foundations. Such foundations like: The Care/Harm foundation, the Fairness/cheating foundation, the Loyalty/betrayal foundation, the Authority/subversion foundation, as well as the Sanctity/degradation foundation. Democrats, Progressives, Social Democrats, can widen their influence if they are willing to stop debasing Republicans (the deplorables move was self-defeating), and appeal to other moral foundations.

Attacks against their sanctity foundation only reinforces why Conservative need to stand up and defend what is sacred to them. It's not that their churches and attendance are their concern, it's their regard for what is sacred. Which party works harder to protect what is sacred?
Stop suggesting that Conservatives and Republicans view Trump as their savior. That's not it. They just believe he has more power to influence a body of congress to also protect what is sacred, which includes their individual rights.
Protecting what is sacred is ultimately what bonds us as a community. We cannot have unity until we learn how to bond with one another, even if we take alternative routes to get to the destination.