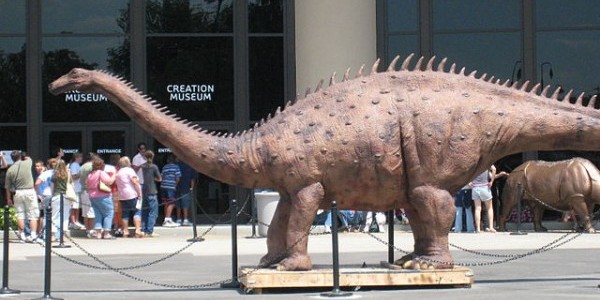 The following is a guest post by Thomas Essel
Ken Ham has a pesky problem on his hands – fossils. They are millions of years old and provide clues about the past. This is a problem if you think the earth is only 6000 years old and are famous for saying things like "were you there". Luckily for Ken Ham, he lives in a world of pure imagination – just like Willy Wonka. In this world, all you have to do is simply be an ignorant fool and say some stupid things to make it all go away!
To reconcile fossils with his belief in a young Earth, Ken presents the following rock-solid argument: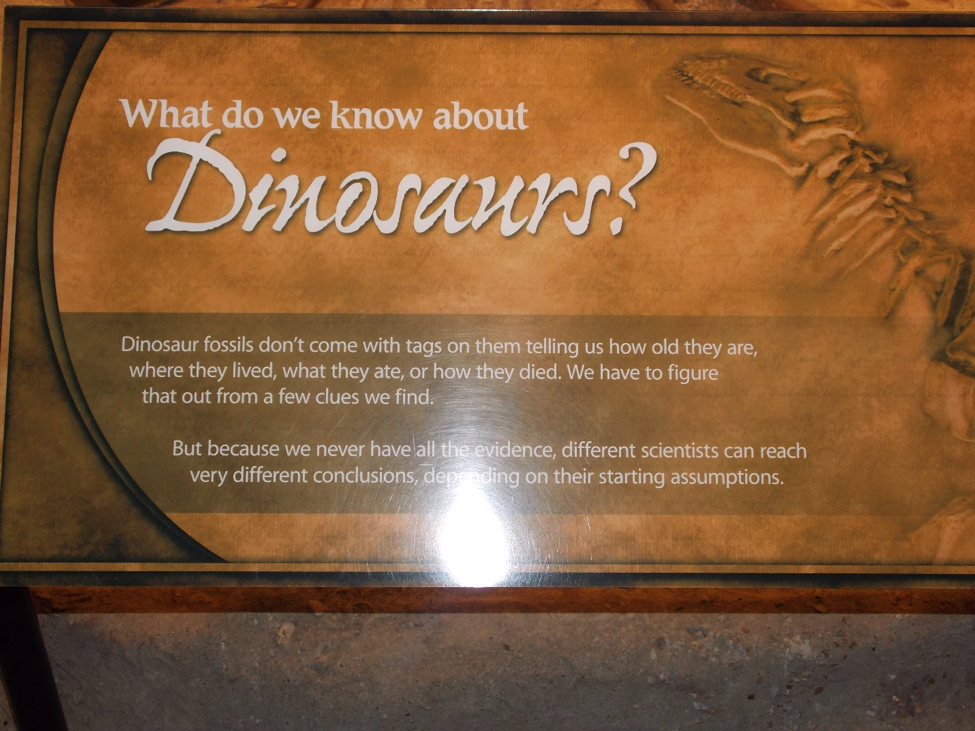 That's right! Dinosaur fossils don't conveniently come labeled with tags to tell us how old they are, which totally means you can just make up whatever number you want. If you just want to pick 6000 years out of a hat for no apparent reason, that is perfectly fine! This was a huge relief to me during my visit. I was afraid I would have to explain words like radiometric, igneous, and isotope to the other visitors. Dodged that bullet.
The creation museum is built solidly on the premise that you cannot possibly know anything about the past with absolute certainty. Since you don't absolutely know anything, your assumptions shape what you believe. The creation museum uses Lucy to do some splainin' on this subject: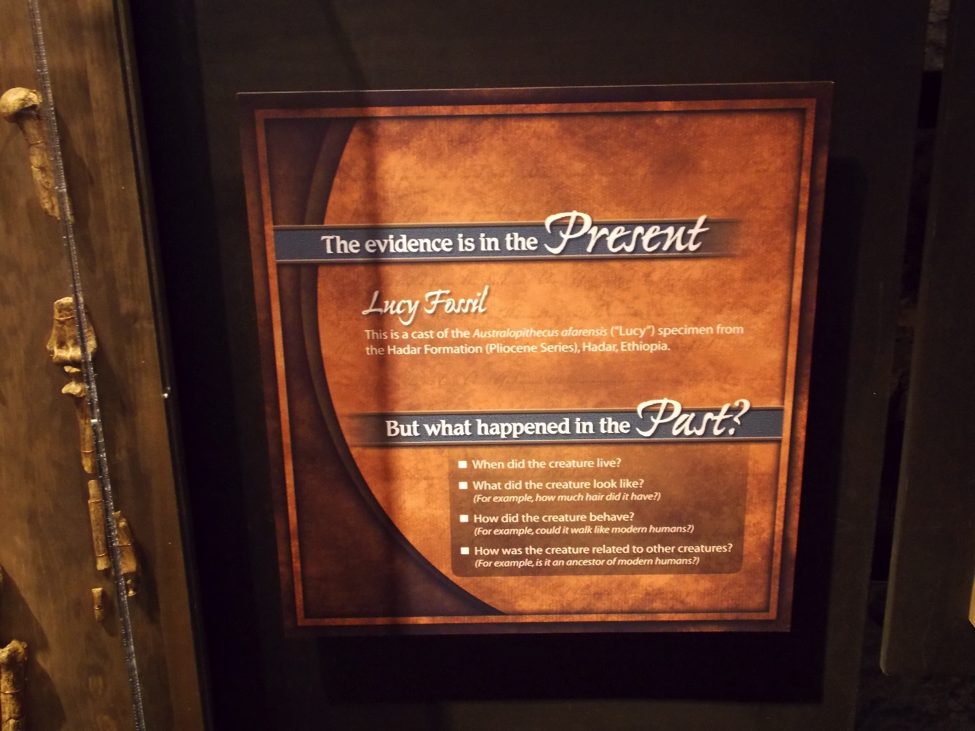 As a former anthropology student, I threw up a little when I saw this. I'm not going to get into the myriad of reasons why this is wrong, but if you are interested in actually learning something about our early ancestors, this link is a good place to start.
Does it really matter how much hair Afarensis had? In the creation museum world, it does matter, since the whole goal is to validate preconceived assumptions among the target audience. To validate the assumption that the bible is 100 percent true and that scientists are full of shit, they manufacture these imaginary controversies and spoon-feed them to a scientifically illiterate audience that doesn't realize the questions are asinine to begin with. The Lucy questions lead to the following display. Apologies for the reflection, it was difficult to photograph.
In addition to my friend Chris, here are all the various interpretations of what Lucy could look like. My favorite is the Orangutan.
Since scientists cannot know this one thing, that means they could be wrong about anything! Clearly, the scientists are just making things up based on their assumptions. Ken Ham doesn't seem to understand the difference between the artistic license legitimate museums use in some of their displays and the actual scientific research done with the artifacts. No legitimate anthropologist anywhere is using the Lucy skull fragments to research hair density or skin color. Since Ken Ham confuses artistic license with actual research, I have a question about the following display: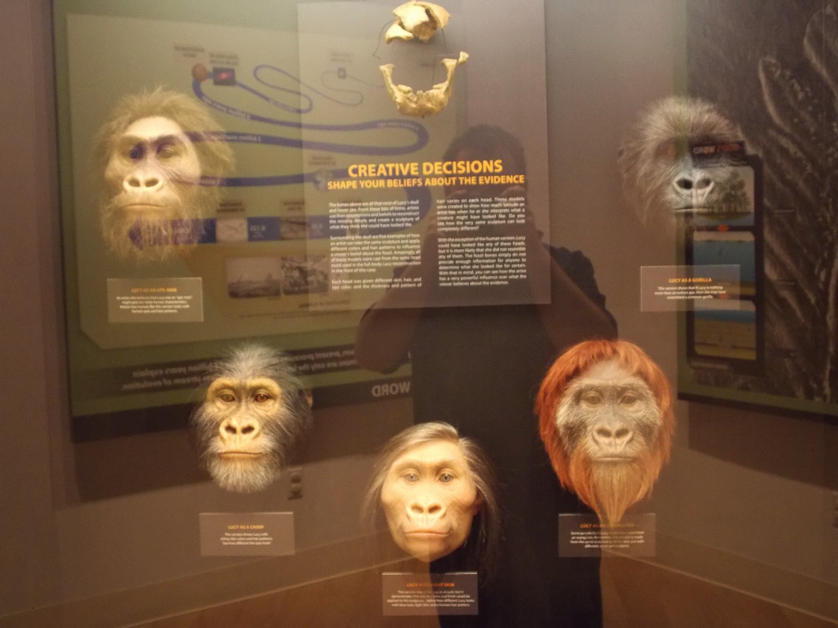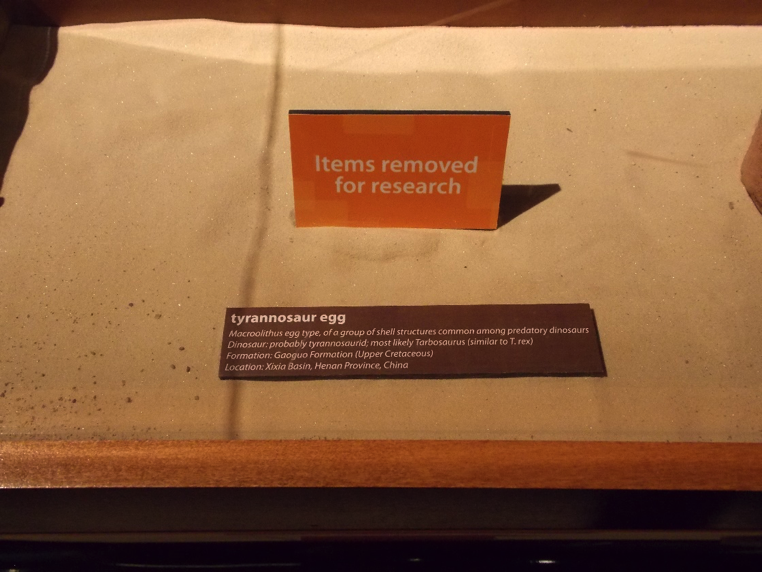 What could they possibly be researching with this Tarbosaurus egg? Are they painting it pastel pink to prove the Easter Bunny is real? If all that matters are your creative decisions and personal assumptions, any egg that you weren't personally around to see laid is potential proof of oviparous rabbits. All you have to do is fill in the blanks with some mental-gymnastic nonsense and if anyone disagrees with you, simply ask, "Well, were
you
there?" It is nothing more than the adult version of "I know you are, but what am I?"
This mentally deficient reasoning lead to the stupidest thing I have ever seen in my life. And I used to work at Walmart, so that's saying something.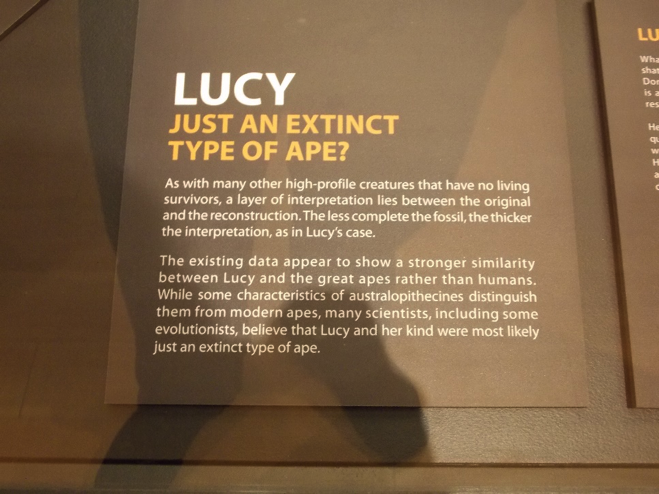 The answer to this question should be a resounding, "Duh." Only some "evolutionists" believe this? Anyone who knows anything about human evolution is well aware that Australopithecines were a type of ape – just like gorillas, Neanderthals, orangutans, chimps, or Ardipithecus Ramidus. What else would Lucy be, an extinct type of water buffalo?
The display plays upon the confusion between the colloquial meanings of the words ape and human. Ken Ham is providing a game of semantics for his followers to play, the whole point of which is to avoid ever acknowledging that humans are also a type of ape. It makes my head hurt, so I'm going to move on.
Everything in Ken Ham's world is a matter of belief and assumption. Since he is a biblical literalist, this means that all belief and assumption falls into one of two categories.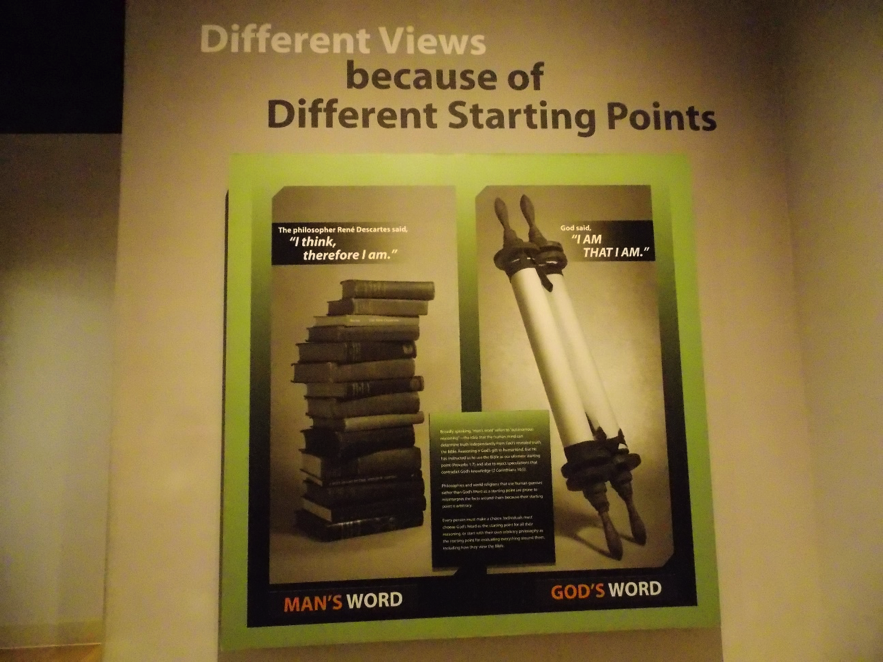 You believe either Man's word or God's word, there is no in-between. In Ken Ham's mind, believing that australopithecines are an ancestor of modern humans or believing that dinosaur fossils are millions of year old is the same thing as rejecting God's perfect word. This rejection has consequences, but that is a subject for another post. Next time, I explore this: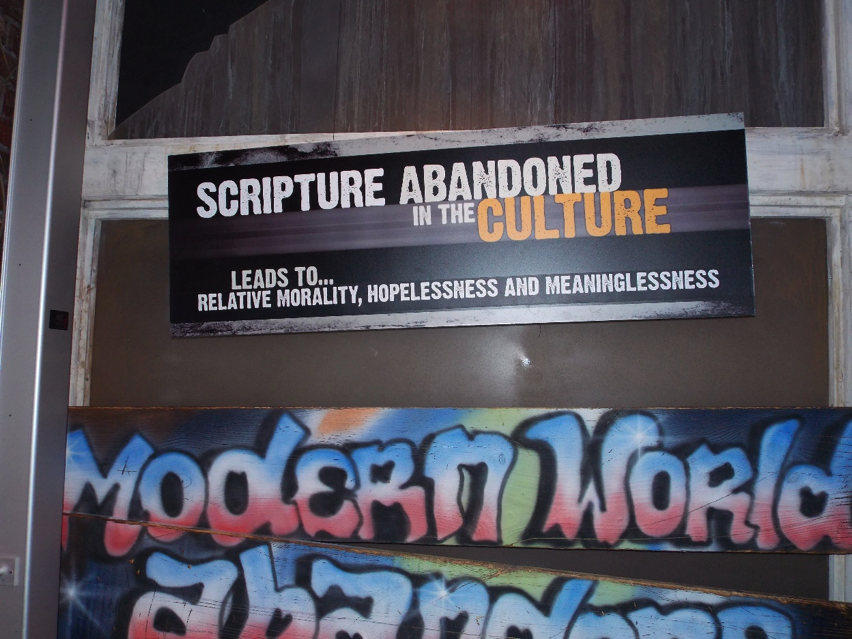 Thomas Essel is an outspoken atheist who lives "behind enemy lines" in the American Bible belt. He has studied anthropology at Palomar College in San Marcos, CA, is a graduate of the Drury University Law Enforcement Academy and is currently an undergraduate student studying American history. His writing interests include religion and politics, especially where the two collide. He currently lives in Springfield, Missouri with his wife, two kids and, most importantly, his cat James Franco.