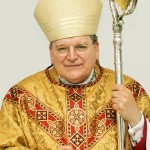 Last year Pope Francis demoted U.S. Cardinal Raymond Burk to a largely ceremonial role as head of a Rome-based Catholic charity it was seen by many as a way for Francis to silence his most vocally conservative critics.
The move however has done anything but silence Cardinal Burk who told an interviewer that Catholics who remarry or gay couples who are trying to lead "faithful" lives are like "the person who murders someone and yet is kind to other people."
"If you are living publicly in a state of mortal sin there isn't any good act that you can perform that justifies that situation: the person remains in grave sin," Burke said in an interview with LifeSiteNews, a popular far-right news site.

"And to give the impression that somehow there's something good about living in a state of grave sin is simply contrary to what the (Catholic) Church has always and everywhere taught," he continued.
These comments seem to be a disruption of the PR spin that the Vatican is trying to put on the churches view of homosexuality and marriage. While not coming out in support of marriage equality, the Vatican is trying to be a little more silent on the issue as to not drive more attention to it.
This does fall in line however with recent comments the Pope himself made when condemning trans people as sinners against God's creation.
The comments should be seen as outrageous and offensive, but given the current state and history of the Catholic Church, the comments seem on par with the Vatican's actual stance.
If Pope Francis really wished to silence such hateful beliefs he would never have just reassigned the Cardinal but would have removed him completely.