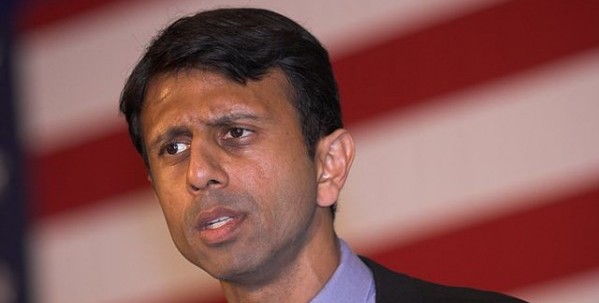 In today's "People Who Will Never Be President" edition of the Danthropology blog, Louisiana Governor, anti-science advocate, and homophobic bigot Bobby Jindal announced he is running for president, making him the 13th GOP candidate to announce.
"Today's Republican Party in Washington has been beaten into submission and is increasingly afraid to speak the truth," Jindal said at an event outside New Orleans. "In case it's not clear by now, I'm running for president without permission from headquarters in Washington DC. But rest assured, I'm tanned, rested, and ready for this fight."
Jindal currently sits in 15th place, yes, 15th out of 13 official runners, in the GOP race for the White House.
He must improve his numbers to reach the top 10 if he wishes to debate other candidates in the national Republican debates. Jindal takes less than 1 percent support, leading only former New York Gov. George Pataki in national polls.
Hopefully, for his sake, he didn't clear his calendar for the whole summer.
It was smart of Bobby Jindal to lease his campaign headquarters on an hour-to-hour basis. No use getting trapped in a day to day lease.

— TBogg (@tbogg) June 24, 2015
[Image: dsb nola / Flickr / Creative Commons]