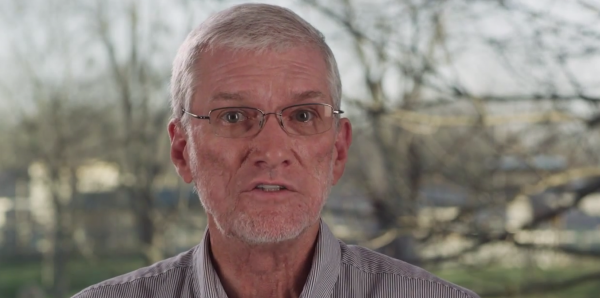 The folks over at Answers in Genesis are having a rough day. They are taking today's 5-4 decision by the Supreme Court to legalize same-sex marriage (now called, marriage) in all 50 states pretty hard. Ham himself is ready for the end times and his lawyer wants to know why you're not banging your sister.
In his blog, Ken Ham wrote of the decision that:
This ruling in favor of gay "marriage" by the Supreme Court is actually going to fundamentally change the culture in America, and apart from a miracle of God—a special movement of God—this is going to be basically an irreversible situation. And I really believe that to understand what is happening to America now, read Romans 1. That is really a picture of what is going on. We're going to see increased persecution against Christians. We're going to see increased antagonism toward Christianity. We're going to see the restriction of the free exercise of religion, freedom of religion, and free speech in this nation, particularly in regard to Christianity. I believe we're going to see the government move against Christian churches, colleges, institutions, and organizations that take a stand on biblical marriage as God commands us to in the Bible going back to the book of Genesis.
Yikes, calm down old man. Not a single thing today affects the religious. No churches are going to be forced to perform marriages they do not agree with. And please, for my own sanity, stop putting marriage in quotes every time you refer to same-sex marriage. You sound like a child.
But if Ken Ham's tiring cries of persecution are not enough and his insistence that this is the end times and Christians are under attack, his lawyer, Mike Johnson really takes the cake for batshit crazy.
"[I]f they are correct—that the State has no authority to regulate marriage—then where could we then draw the line? Would first cousins have the right to marry? A father and his daughter? An uncle and his nephew? A 20-year-old man and a 13-year-old girl? If the "right to marry" is determined to have no rational boundary, chaos is certain to follow."
Chaos I tell you! Here we go again. This is no different than when Ken Ham asked Miley Cyrus why she is not having sex with pigs.
I actually tweeted today that now that marriage equality has passed, I could focus on marrying my dog, a tweet that was meant to make fun of idiotic arguments such as this.
The last one is easy, a 13-year-old girl does not have the full mental capacity to make such a decision and for these reasons we have pedophilia laws. Just because the
Duggar family
is okay with it, doesn't mean the rest of the country is. Consent is a word that seems to have never reached the brains of a single Answers in Genesis employee.
The we come to the case of incest. Let's assume we can knock pedophilia out of this equation and the father and daughter, or uncle and nephew are all consenting adults.
Well, for starters, why is AiG complaining about incest? They have displays set up in their own museum glorifying incest! So they're using it as a defense again marriage equality is laughable at best.
But, in a real life argument, incest does become tricky, but too tricky.
For starters, laws outlawing incest are not discriminatory in the way outlawing same-sex relationships are. "Homosexuality is an orientation. Incest isn't. If the law bans gay sex, a lesbian can't have a sex life. But if you're hot for your sister, and the law says you can't sleep with her, you have billions of other options," writes William Saletan for Slate.
Yet, writing for Big Think, Tauriq Moosa argues that, "Whatever the political situation, if we respect an adult's right to engage freely in sexual acts with other consenting adults, it's not clear why we draw a line based on genetics."
I feel as though the Christian Right overuses the incest argument because incest in itself is rare. As a species, we have not evolved to be attracted sexually to our kin because it offers no chance to spread our genes. So from an evolutionary perspective, incest makes no sense. This, however, does not offer an argument against it that would be fit for laws outlawing the practice.
And while I will do nothing to settle the incest debate here, or even try, I only wanted to present two sides to the argument to show how little weight it has on the foundation of our society and plays no role in the marriage equality debate.
Incest, pedophilia, and religious persecution are being used as nothing but buzzwords by Ham and Johnson to scare Christians into supporting their cause, by buying DVDs, books and donating to the organization.
Today, millions of people were granted equality under our law, the good loving Christians are Answers in Genesis are too filled with hate to be happy for them.
[Image: YouTube screen capture]