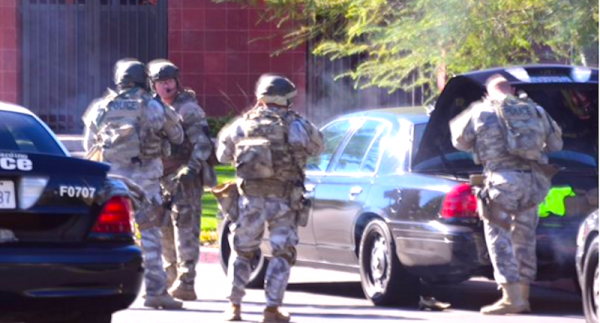 The San Bernardino Sheriff's Department has said that upwards of 14 people are dead and at least 14 wounded when three gunmen entered a social service's complex and opened fire. The center is said to be used by people with mild to severe autism.
Police chief Jarrod Burguan said in a press conference that they do not have a motive for the shooting. "These are people that came prepared" and were armed with "long guns," Burguan remarked.
"Obviously at minimum we have a domestic terrorism type situation that occurred here… They came prepared to do what they did as if they were on a mission," he added.
According to Raw Story: Witnesses reported seeing three heavily armed men wearing military-style clothing and possibly body armor.
The suspects have reportedly fled the scene and are currently at large. All schools in the area are now on lockdown.
Updates to the situation will be posted here.
[Image: Doug Saunders/Twitter]