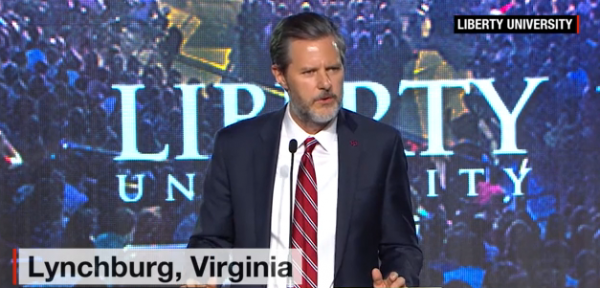 When it comes to outright bigotry and hate speech, the apple does not fall far from the tree in the Falwell family. During a speech last Friday night, Jerry Falwell, Jr., head of Liberty University, a fundamentalist Christian in Virgina spoke about the mass shooting that happened last week  in San Bernardino, California in which a Muslim couple killed 14 people and injured 21 others in a mass shooting.
"It just blows my mind when I see the President of the United States say that the answer to [San Bernardino] is more gun control," Falwell said. "If some of those people in that community center had had what I've got in my back pocket right now…"
He then encouraged people, and his own students to carry guns so they could " end those Muslims before they walk in and kill us."
Falwell then told students that the university offers a free course to help get a concealed carry permit.
"I just wanted to take this opportunity to encourage all of you to get your permit. We offer a free course. Let's teach them a lesson if they ever show up here," he said.
Apparently Liberty University is the new training grounds for Christian terrorism.
[Image: video screen capture]