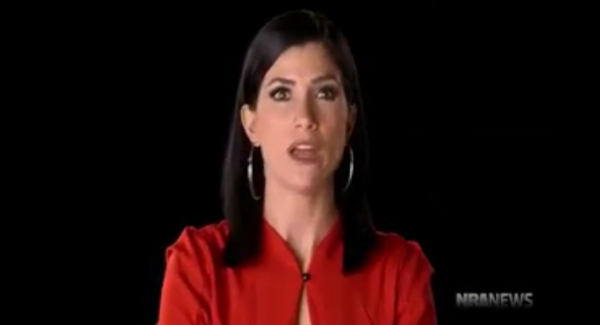 The NRA did not mark the three-year anniversary of the horrible Sandy Hook Elementary School shooting quietly. Instead, they released a video of Dana Loesch, a conservative radio host and NRA talking head, calling liberals "terrorists".
The commentary video released by the NRA Monday morning labeled those who advocate action instead of useless thoughts and prayers following the mass shooting in San Bernardino, California the "Godless Left" and said that those liberals "march hand-in-hand" with terrorists "toward the possible, purposeful destruction of us all."
Loesch says those who made the comments about thoughts and prayers "mocked the entire concept of religion" and carried out a "coordinated assault" on "our right to believe," and then that "the Godless Left … share the same fanatical fervor to tear apart the foundations of America as the terrorists who threaten our very survival. And together, they march hand-in-hand toward the possible, purposeful destruction of us all."
This is how the NRA remembers 20 children massacred — by calling those fighting to make sure it never happens again and again, and again, terrorists.
[Image: Video screen capture]