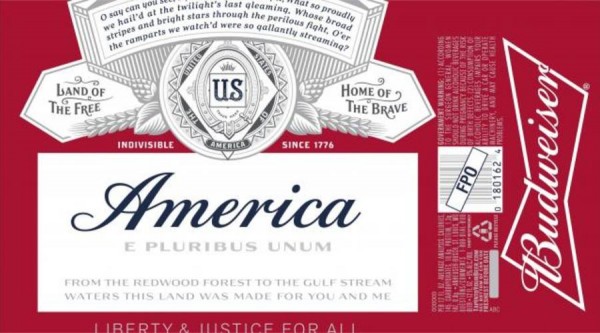 Budweiser, for whatever marketing reason, has changed their name to America. At least, through the November election.
While many want to dissect the reasoning to the name change, I don't actually care, but I do find two things about their new label very interesting.
First, under the name America, they have the country's motto, but it's not In God We Trust, instead, they decided to go with the classic and secular E Pluribus Unum, which was the unofficial motto of the country until 1956 when during the communist red scare congress passed a resolution making In God We Trust the official motto, forever making Christians believe that our nation is founded on Christian beliefs.
The second thing that really stood out was their use of word indivisible. The entire label is a throwback to the secular founding of our nation with "Indivisible since 1776" and "Liberty and Justice for All," and some lyrics to This Land is Your Land.
The top of the label also features the lyrics to the National Anthem.
The word God appears a total number of zero times on the label.
I can't wait for Pat Robertson and Bryan Fischer to get their hands on this.