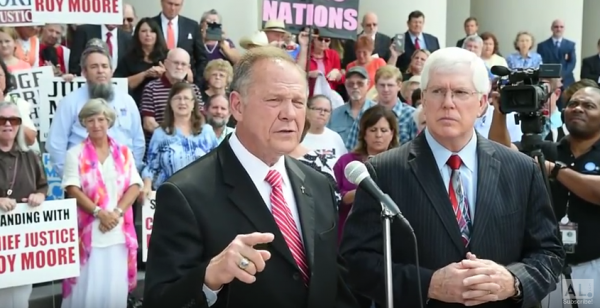 What a massive victory for LGBTQ right's activists today as Alabama Supreme Court Chief Justice Roy Moore was suspended for the remainder of his term for telling probate judges to defy federal orders regarding gay marriage.
Oddly enough, this is the second time that Moore has been removed from his job for defying federal orders.
"For these violations, Chief Justice Moore is hereby suspended from office without pay for the remainder of his term. This suspension is effective immediately," the order stated. The court found him guilty on all six charges of violation of the canons of judicial ethics.
The good news is, this is the last time Moore can use the courts to defy the law. His term was set to expire in 2019, and he will be 69-years-old and not eligible to run for the seat again.
So former Judge Moore will never make a ruling again.
Moore is, however, filing an appeal.
It is unlikely, though, that he will have much success there.
Good riddance you theocratic, homophobe.