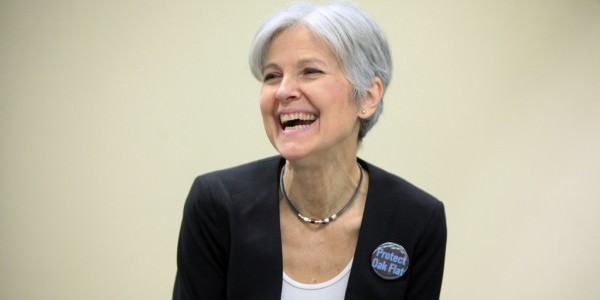 Green Party presidential candidate Jill Stein is said to be facing charges of vandalism stemming from a video that surfaced of her spray painting construction equipment at a North Dakota construction site.
Morton County Sheriff Kyle Kirchmeier said the department is currently "working up the information through the state's attorney's office to pursue charges [against Stein]."
What the official chargers would be is unclear.
According to Politico, two other protesters chained themselves to bulldozers.
Kirchmeier said that "the incident is actually still ongoing as we speak," but that no arrests have been made. "We are actively investigating these incidents, either by video or social media to identify people that have taken place in this. We will pursue charges as needed."
Stein was there with around 200 others to protest the Dakota Access Pipeline, a pipeline running directly through the Standing Rock Indian Reservation, and the natives have been protesting the project with little media attention.
While Stein's act may have been technically criminal, she has helped bring more national attention to the story with her act. In that regard, her act of disobedience should be celebrated as she is willing to face charges, as we have seen in the past, to stand up for what is right.