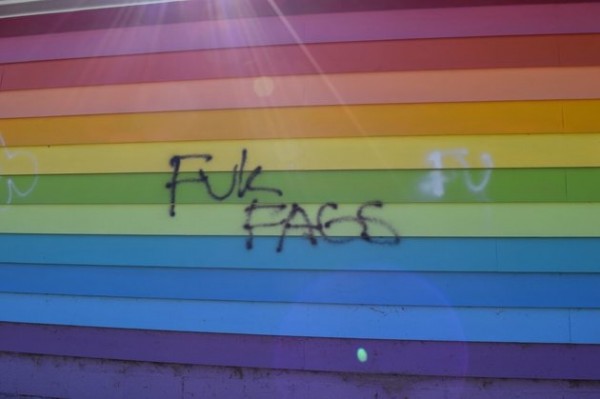 Seven bullet holes and graffiti that reads, "fuk fags," were found on The Equality House, an LGBTQ center for peace and activism that stands across the street from the infamous Westboro Baptist Church.
According to the Huffington Post, Aaron Jackson, the President of Planting Peace, was in his bedroom inside the Equality House when he heard a series of strange noises outside on the morning of October 23.
A few days later, bullet holes were found in a window of the building.
"The blatant acts of hate we experience at the Equality House mirror the acts of hate and discrimination our LGBT family experiences every day," Jackson told The Huffington Post. "Planting Peace has seen an increase in hate mail, death threats and physical acts of vandalism and violence over the past three months. According to the FBI, the LGBT community is more likely to experience a hate crime than any other minority group."
"The LGBT movement has made tremendous progress on all fronts," he added, "including legislation that protects LGBT fundamental human rights, but we still have substantial work to do to change people's hearts and minds, which is the most important change."
The investigation is ongoing, according to Jackson.
This is domestic terrorism, pure and simple.