Are you looking for a little peace? A little wonder in this crazy world? Here's a highly recommended artist.
Over the last four decades, Jeff Johnson has 47 solo and collaborative albums to his credit. The variety in this vast body of work is wide-ranging, touching on Modern Celtic, World Music, Contemplative, New Age, Jazz, and Progressive Rock styles.
His latest album, Eirlandia is an instrumental effort where he brings together many of his favorite collaborators, including flutist Brian Dunning. The stunning Modern Celtic offering finds a way to stimulate the senses and at the same time soothe the soul.
I've been a fan of his since I was in high school, inspired by his musical interpretations of great art, literature and poetry. I was offered this exclusive interview with the artist:
How has your music evolved?
I started writing songs in 1976, when I was just a teenager. I was influenced and intrigued by great literature, poetry and art. Creating music was a way for me to express and develop my own thinking. At an early age I also began to experiment with recording my own music. It was a natural step – and perhaps a little presumptuous – to make my own records and release them on my own label.
This was in an age before the personal computer and the software tools of today that allow just about anyone to record their own music. Back then, it was all tape-based and the curve was high in learning how to record, edit and mix music. I was fortunate enough to learn the technical and production aspects of the recording process in a couple of commercial studios in the Portland area. There were many, experienced engineers, fellow producers and musicians who I learned from along the way. I began applying what I learned to my own recordings at my home studio. Now that I have these "ears" of experience, it's easy to hear the technical and composition flaws in these early recordings. But that's fine, because decades later my music continues to mature and improve and I'm always learning, always stretching.
While I continued to write songs with lyrics, I also began including instrumental pieces. And eventually, I began recording and releasing full instrumental recordings along with my "vocal" albums. From the beginning, most of my music has been "concept based" and this really hasn't changed, even today in a world where most people listen to songs rather than sitting down and listening to an entire recording in one sitting.
Eirlandia is inspired by the Stephen Lawhead book series by the same name. What is it about his writing that influences your music?
Steve is a dear friend, so that makes an ongoing collaboration natural. I just love his stories and the ones that touch upon the more Celtic themes play into the kind of music that Brian Dunning and I have always made together.
To date, we have collaborated with Steve with three CDs based on the Song of Albion series; three EPs based on the King Raven trilogy; as well as The Music of Celtic Legends – The Bard and the Warrior and Prayers of St. Brendan – The Journey Home which both include original stories that he wrote to be included with both of the CD's packaging.
Eirlandia is a tremendous story. I think it's one of Lawhead's best and I think that his readers are absolutely going to love the world he's portrayed and the marvelous characters that are part of it. There is a profound beauty and sense of wonder in these books. Yet, there is a great struggle between the forces that serve this beauty and those who would threaten it. This creates a very real tension not unlike the kinds of issues we face in our own world.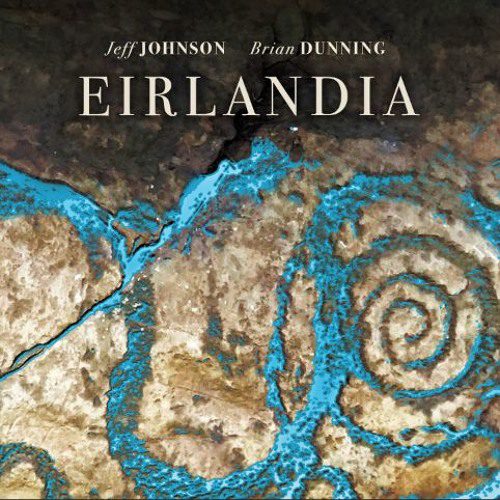 I'm particularly pleased with this album. I think the music really captures the essence of the Eirlandia world that Lawhead has created. I also love the subtlety of production and mixes. It is a very fun recording to listen to on headphones and the songs are sequenced in a way that flow very nicely. Yet, each song stands on its own with memorable melodies.
You have a continent and an ocean that separate the two of you. How does the collaboration effort work with Brian Dunning work?
When Brian and I first began collaborating in the late 1980's, he was based in Portland, Oregon where I lived. So, initially we would each write an idea that we would work on together in my studio and often develop and record that together.
When he and his family moved back to Ireland in the early 1990's, we were able to come up with a way to send tracks back and forth using burned CDRs from a Roland hard disc recorder with the occasional trip that I would take to Ireland to work together.
Each year, for the past 17 years, Brian has travelled to the USA to join me for the Celtic Christmas tour. Before he would come over, Brian and I often developed new ideas working back and forth. Then, I would produce arrangements that we would then complete when he was here.
Eirlandia features an even mixture of both Brian's and my musical ideas. It was recorded at the Ark Studio as well as a few additional tracks where he lives in Ireland. I completed the production and mixed it at my home studio.

This music seems to draw people to another land, away from this present world full of challenges. Is music like this Hopeful? Wistful? Delusional?
I've always been personally drawn to music that takes me to another place. I try to do that with my own music. It's a bit like traveling. When we have the chance to travel to another place that's different than the one that we normally live in, we are often opened to new things. Music can allow one to 'escape' from the pressure and stress of their own lives. And this can be a very spiritual kind of experience. But I believe these musical escapes are best when they can be shared with others in the real world.
How do you write songs about fantasy in a way that brings people to reality?
Good fantasy has always been about good story telling. And good story telling touches us and inspires us since it often parallels the narratives of our own lives. Sure, we won't ever be or meet an elf or a druid or a Celtic warrior in this life, but like those fantastical characters, we are often personally faced with great struggles and must make difficult choices and act upon them to not only survive but to live lives that are worth living. Thus, our music based on these books is an attempt to creatively portray the emotions, feelings and experiences behind the story and some of the characters that inhabit it.
Wonder is a consistent theme in your work throughout your life. Is this conscious?
As an artist, portraying wonder is insatiable goal of mine. To experience wonder is to jump off the 'merry-go-round' of day to day living in order to stop, look, listen and consider the fact that there is a something greater – a more enduring story – that exists beyond our own little world. To wonder is to notice the countless things going on above us, beneath us, before us, within us and around us all of the time and to realize the richness and potential to live a life that revels, takes joy and lives graciously. That's why I'm drawn to music by others that leads me into wonder and it is what I hope my own music does for my own listeners.
—————