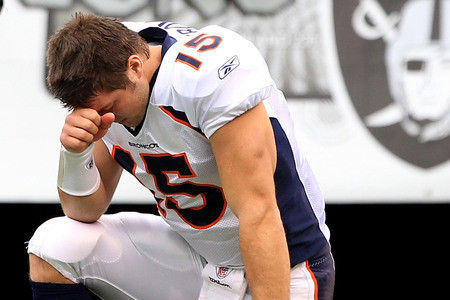 The director of the "Church and Sport" section at the Pontifical Council for the Laity — yes, there is such a section at the Vatican — has offered a few thoughts on the Tim Tebow phenomenon.
From ZENIT:
Legionary of Christ Father Kevin Lixey works in the Roman Curia helping the Church make a contribution to the world of sport, with the aim of promoting a sports culture suitable to the integral development of the individual.

ZENIT spoke with Father Lixey about the Denver Broncos quarterback, Tim Tebow, after Tebow led his team to an overtime win in last Sunday's playoff game.

Those familiar with the NFL — and even those who are not — might have heard of Tebow for more than his unique style as a quarterback. His outward expressions of his Christian faith are being talked about by all sorts of commentators, in the world of American football and beyond. Though certainly not the only athlete to publicly express his faith on the field, Tebow is drawing more attention than usual. We asked Father Lixey what he thinks about that.

ZENIT: Do you see Tim Tebow's public expression of faith as a positive or negative phenomenon? Certainly it is drawing a lot of attention to Christ, in one form or another …

Father Lixey: The hype over Tim Tebow is certainly an interesting phenomenon in an ever more secularized world. I consider it something very positive. Even at the college level, while quarterback for the Florida Gators during the 2009 Bowl Championship Series title contest, Tebow wrote "John 3:16" on his eye black. The Palm Beach Post reported that 92 million people Googled the verse following the game … impressive!

But, it is not the mere public expression of faith — as Tebow drops a knee to give thanks after a touchdown, or prays with other players who include teammates and opponents after the game — that is attracting people; it is his entire person.

I had the chance to speak with the offensive coordinator who coached Tim at the Florida Gators. He said he was a very unique player who was spiritually on another stratosphere with respect to the rest of the team. Yet, Tim was respected by his teammates because he was genuine. And this is the point I would like to touch on. As one reporter noted (Chuck Klosterman, Dec. 6, 2011): "This, I think, is what makes Tebow so maddening to those who hate him: He refuses to say anything that would validate the suspicion that he's fake (or naïve or self-righteous or dumb)."

While Tebow certainly sticks out for these external manifestations of his faith, not to mention his unorthodox playing style as an NFL quarterback, his personal background is also not typical for an NFL quarterback. It is a real "Cinderella" story — although those who have to tackle Tim would not consider him a Cinderella.

ZENIT: OK, but does prayer really have a place in football? Surely God doesn't care about who wins the Super Bowl — or does he?

Father Lixey: Judging from his public statements, Tebow is one of the few and most prominent religious athletes to recognize that God does not care about the score of football games. Tebow considers his missionary and philanthropic work much more important than football, but at the same time, possible, because of it. We all too often equate prayer with only asking good things from God, where prayer is only used "to obtain something" i.e., victory, health, or a miracle. The Catechism reminds us that prayer is also "the raising of one's mind and heart to God" and that we "we must remember God more often that we draw breath."

Certainly there are moments and places more conducive to prayer, but there is no reason that all religious manifestations be entirely banned from the public square. These external manifestations of one's beliefs are impressive precisely because they are public. Just as Christians once fell to their knees at the sound of the Angelus bell to remember the Incarnation, or just as the cab driver makes the point of getting out of his car to bow down toward Mecca in prayer, I see no reason why a professional football player cannot offer a prayer of thanksgiving or point to heaven instead of doing a lewd victory dance in the end zone.

ZENIT: As Catholics, what can we learn from this situation — from Tebow himself, perhaps, and from the reactions he's causing?

Father Lixey: Blessed John Paul II once reminded a group of top professional soccer players: "The eyes of sports fans throughout the world are fixed on you. Be conscious of your responsibility! It is not only the champion in the stadium but also the whole person who should become a model for millions of young people, who need 'leaders,' not 'idols.' They need men who can convey to them the zest for challenge, a sense of discipline, the courage to be honest and the joy of unselfishness."

I believe Tim Tebow is trying to live up to these words of John Paul II and his example can prompt other athletes to be "leaders" and not idols, being a model on and off the field, especially of the corporal works of mercy. As Tim shares in his own words: "When I was a student at the University of Florida, I found great joy in taking time to encourage children suffering from cancer in hospitals or visiting a prison or juvenile detention center, or doing mission work with my family at Uncle Dick's Orphanage in the Philippines. … Football is so popular (that) it enables an athlete like me to establish a platform for doing good deeds … to take this experience to an even greater level of outreach and influence. … After my professional career, I plan on giving my life full time to this outreach."
There's more.  Read it all.
Meantime, Dan Barry of the New York Times has a few thoughts on the Tebow Phenom:
What, exactly, is it about Tim Tebow that so fascinates and provokes us? Why do some people project onto him the best of this country (humility, tenacity, plain old decency) — and the worst (sanctimoniousness, overexposure, political intolerance)?

Part of the answer may lie in the way he seems oblivious to the throaty roars that envelop him on and off the field, as though Tebow is always tebowing, whether kneeling or standing up. It seems a stretch to interpret his calm indifference as a particularly arrogant strain of piety. More likely, it is his way of saying that none of this — the rah-rah football Sunday, followed by the weeklong football Kremlinology — is what truly matters.

Tebow may not think that Tebow is what matters, but much of the country apparently does. Why?

Legions of pundits, writers and insomniac callers to late-night radio have analyzed the subject. But maybe no investigation or deep sociological inquiry is required. Maybe the key to the Tebow phenomenon is just this: He wins games.

What's more, Tebow tends to win in the closing minutes, against considerable odds and amid the persistent doubts about his ability by the football establishment. He often can seem like a regular guy suddenly thrust into the middle of a professional football game, only to win by summoning a superhuman will that we all wish we had.

Finally, and it cannot be denied, Tebow's very public conviction about his faith resonates (Isn't he a model for how to live?), intrigues (How can he be so certain?) or annoys (Can't he keep it in the church pew?). If he were not in the playoffs, perhaps we would not care as much. But since he is, his extraordinary athleticism and proven heroics — including two college championships and a Heisman Trophy — are routinely forgotten in favor of a more mystical possibility.