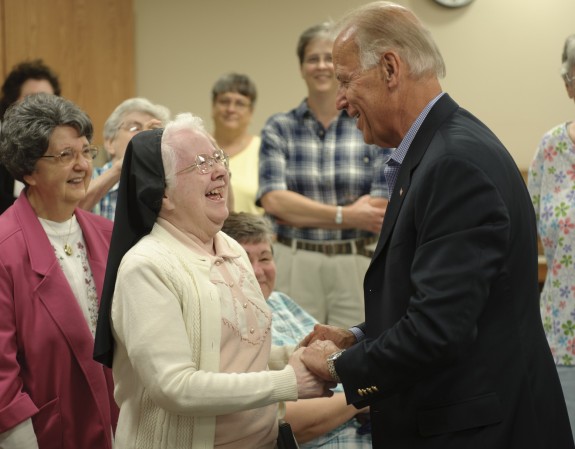 Political campaigns are all about generating publicity and public support, but Vice-President Biden seems to have upended conventional wisdom — not a first for him, of course — by making an under-the-radar visit to the motherhouse of the Sisters of St. Francis in Dubuque during a two-day campaign trip to Iowa last week.

Why the secrecy, Joe? These days everybody loves the nuns. Yet while the media covered Biden's various events as he appealed to the usual constituencies in the battleground state, there was nary a word about his stopover last Tuesday (June 26) to bring dessert to the sisters.

"The Vice-President got to know the sisters through an old friend in Dubuque, during a previous trip to the city," said a campaign official, speaking on background. "This was nothing more than a private, casual reunion of friends of faith over ice cream and cookies." There were about 150 people at the gathering.

The news just surfaced along with this campaign photo of Biden greeting some of the sisters. And this would be controversial?

Well, maybe.