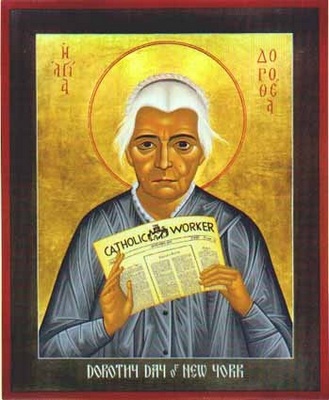 Can I hear an "Amen"?
The U.S. bishops, on a voice vote, endorsed the sainthood cause of Dorothy Day, the co-founder of the Catholic Worker movement, who was famously quoted as saying, "Don't call me a saint. I don't want to be dismissed so easily."

The endorsement came at the end of a canonically required consultation that took place Nov. 13, the second day of the bishops' annual fall general assembly in Baltimore.

Under the terms of the 2007 Vatican document "Sanctorum Mater," the diocesan bishop promoting a sainthood cause must consult at least with the regional bishops' conference on the advisability of pursuing the cause.

In the case of Day, whose Catholic Worker ministry was based in New York City, the bishop promoting her cause is Cardinal Timothy M. Dolan of New York, president of the U.S. bishops' conference. The cause was first undertaken by one of Cardinal Dolan's predecessors in New York, Cardinal John O'Connor.

Cardinal Dolan had earlier conducted a consultation with bishops in his region, and subsequently chose to seek a consultation with the full body of U.S. bishops.

He and the other bishops who spoke during the consultation, some of whom had met Day, called her sainthood cause an opportune moment in the life of the U.S. church.

Cardinal Dolan called Day's journey "Augustinian," saying that "she was the first to admit it: sexual immorality, there was a religious search, there was a pregnancy out of wedlock, and an abortion. Like Saul on the way to Damascus, she was radically changed" and has become "a saint for our time."

"Of all the people we need to reach out to, all the people that are hard to get at, the street people, the ones who are on drugs, the ones who have had abortions, she was one of them," Cardinal Theodore E. McCarrick said of Day. The retired archbishop of Washington is a native New Yorker.

"What a tremendous opportunity to say to them you can not only be brought back into society, you can not only be brought back into the church, you can be a saint!" he added.

"She was a very great personal friend to me when I was a young priest," said Bishop William F. Murphy of Rockville Centre, N.Y. "To be able to stand here and say yes to this means a great deal to me."
Day had a great love of the Eucharist; I preached about one example here.
Dorothy Day, pray for us!