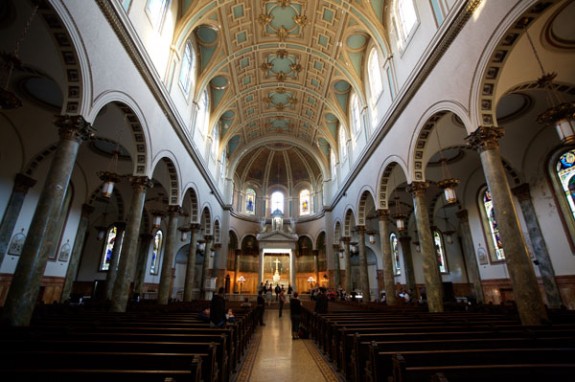 Great news from the In My Backyard Desk:
Bishop Nicholas DiMarzio petitioned the Vatican last year to give Cathedral status to St. Joseph's, the largest church in the Brooklyn diocese.

Pope Emeritus Benedict granted the request before he resigned.

DiMarzio will be the Pastor of St. Joseph's, which will now serve as the seat of the Bishop.

Able to seat about 1,500 people, the cathedral will now serve as the scene of major events like Christmas mass.

"It's preferred that all the major celebrations take place at the cathedral, and the reason for St. Joseph, which is the largest church in the diocese, becoming the co-cathedral of the diocese is St. James, which had been the pro cathedral, is a very small church," said Msgr. Kieran Harrington, administrator at St. Joseph's. "So we were unable to have the major diocesan celebrations there because it only can seat about 500 people."
Then-New York Archbishop John Hughes established the Church of St. Joseph in 1850, to serve the burgeoning immigrant population of the area. Bishop DiMarzio is pastor of the cathedral.

With the elevation, St. Joseph is now a co-cathedral for the diocese of Brooklyn, which includes both Brooklyn itself and Queens. St. James Cathedral Basilica in downtown Brooklyn had been the only cathedral in the diocese since it was founded in 1853.
The co-cathedral is just a few blocks from the new Barclay's arena, where the borough is experiencing a development boom bringing a flood of new people into the area.