Look who just arrived for his Lenten retreat outside of Rome.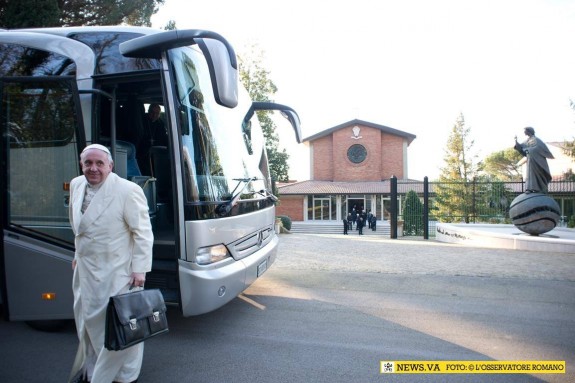 From Vatican Radio:
Breaking from a long-held tradition of holding them in the Vatican, Pope Francis decided to organize this year's annual retreat from March 9-14 at the Pauline Fathers' retreat and conference center in Ariccia. The small medieval town is not far from the papal summer residence of Castel Gandolfo. And, in choosing to get away from the Vatican and the daily pressures of curia work and duties, Pope Francis is telling us silence and prayer can have a transforming power in one's life and relationships with others.
Pope Francis is in the hillside town of Ariccia just south of Rome for a week-long Lenten retreat with members of the Curia. The Pope left the Vatican Sunday afternoon by bus – just a few hours after reciting the Angelus prayer with the faithful in St. Peter's square.