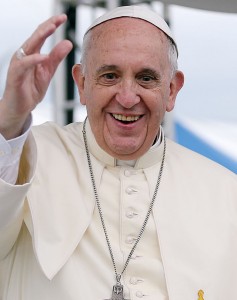 Pope Francis issued his strongest defense yet of church teaching opposing artificial contraception, using a Friday rally in Asia's largest Catholic nation to urge families to be "sanctuaries of respect for life."

Francis also denounced the corruption that has plagued the Philippines for decades and urged officials to instead work to end its "scandalous" poverty and social inequalities during his first full day in Manila, where he received a rock star's welcome at every turn.

…Francis has largely shied away from emphasizing church teaching on hot-button issues, saying the previous two popes made the teaching well-known and that he wants to focus on making the church a place of welcome, not rules. But his comments were clearly a nod to the local church, which recently lost a significant fight when President Benigno Aquino III pushed through a reproductive health law that allows the government to provide artificial birth control to the poor.

"Be sanctuaries of respect for life, proclaiming the sacredness of every human life from conception to natural death," Francis exhorted the crowd. "What a gift this would be to society if every Christian family lived fully its noble vocation."

He then deviated from his prepared remarks to praise Pope Paul VI for having "courageously" resisted calls for an opening in church teaching on sexuality in the 1960s. Paul penned the 1968 encyclical "Humanae Vitae," which enshrined the church's opposition to artificial birth control.

Francis noted that Paul was aware that some families would find it difficult to uphold the teaching and "he asked confessors to be particularly compassionate and understandable for particular cases."

But he nevertheless said Paul was prescient in resisting the trends of the times.

"He looked beyond. He looked to the peoples of the Earth and saw the destruction of the family because of the lack of children," Francis said. "Paul VI was courageous. He was a good pastor. He warned his sheep about the wolves that were approaching, and from the heavens he blesses us today."
This morning, The Anchoress noted the above and added: 
The pope is not an American politician. He's Peter. Just like the last couple hundred of them. They don't speak to the issues of a single day, but of eternity.
Amen.