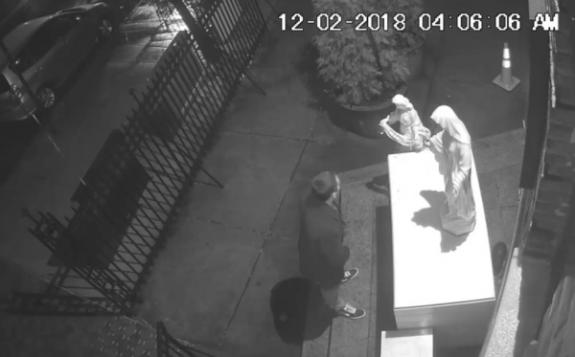 A man urinated on and then knocked over two statues of angels guarding the Virgin Mary in front of Our Lady of Consolation Church, Williamsburg, at 4 a.m., Sunday, Dec. 2.

The statues broke into pieces, but the figure of the Virgin remains unharmed. Surveillance video caught the violent act as the man, approximately 30 years old, approached the statues, relieved himself on them and then forcefully knocked over the two statues.

Police are looking for the suspect in the video. The NYPD reports that he has a light complexion and straight, short brown hair. He is about six feet tall and weighs about 190 pounds. He was last seen wearing a dark-colored peacoat, beige slacks and Vann brand sneakers. After he vandalized the statues, he was seen going southbound on Metropolitan Ave. toward Bedford Ave.

This is the third time in five years that Our Lady of Consolation Church has been vandalized in this way. Angel statues at this shrine were damaged in 2013 and 2016. The statues of the angels and Virgin Mary invite passersby to stop and pray. They serve as a momentary refuge, especially when the church is not open.
The video is viewable here.