In addition to the need for a non-partisan federal agency to run and control our elections, here's another change that needs to be made: Elected officials should not be in charge of drawing new congressional districts every ten years. Both parties use that power, when they're in charge, to draw bizarre districts that make little sense in order to create safe seats. Here's a perfect example. This is the 4th Congressional district in Illinois: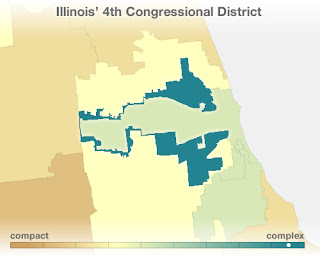 John Nelson, whose company has a software program that helps identify gerrymandered districts,
shows
a whole bunch of these, drawn by both parties in order to create safe districts for themselves. Political partisans should not have this power. If you give elected officials the ability to protect themselves and their parties, they're going to do it. So you shouldn't give them that ability. Congressional districts should be drawn by the Census Bureau based on objective criteria. Yes, there will inevitably be some judgment calls to be made — but those calls should not be made by those with a stake in the outcome.