One of the many people who Tweeted after last week's election to call President Obama a nigger (no, I'm not going to say "n-word" — we all know what the word is and there is no need for euphemism here) has been fired and seems to be baffled by those who think it was racist. Here's what she said: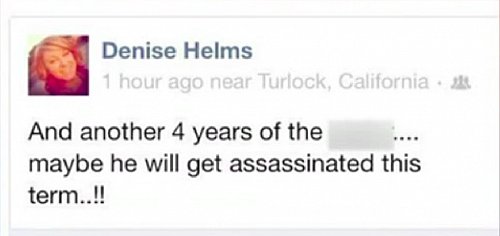 "I don't understand what I did wrong," she told FOX40.

However, she later admitted that what she said was "wrong." Helms also argued that she is not a racist and said she doesn't really want Obama to be assassinated because, after all, he "does have two kids."
Now she
says
she takes it all back. Kind of.
When pressed about the post, Helms said she was not a racist.

"It does [sound like I'm a racist]," Helms said, "but I am not. That's what everyone's been telling me, 'You know, what you said sounded so racist,' and it does, and you know, I take it back. If I could erase what I said, I would."
Of course you would. You lost your job over it. But that doesn't mean you're not a racist. You are. And all the pretending otherwise is just ridiculous.