This is hilarious. The Duggars, parents of approximately 1800 children, put up a picture on their Facebook page of them sharing a kiss and asked other married couples to post pictures of themselves doing so as well. You can probably predict what happened next.
God designed marriage to be a loving, dynamic relationship between a husband and wife for a lifetime. God loves marriage and it is supposed to be full of love, joy, fun and romance. Marriage is where romance belongs!

We are so grateful they waited to share their first kiss until after marriage. We've been married 30 years and are still in love! We had fun trying to duplicate Ben and Jessa's happily married kissing picture. We challenge all married couples to take a happily married picture and post it here.
Lots of married gay couples started posting pics of themselves, including friend of the blog Rob Tisinai: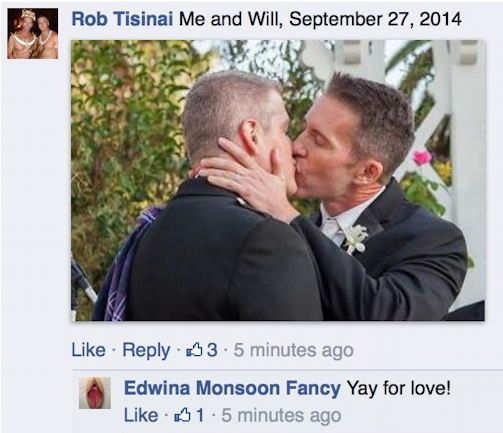 The pictures were, of course, removed and those who posted them banned from the Duggars' Facebook page because apparently when they asked for pictures of "all married couples" they really only meant those couples they approve of.