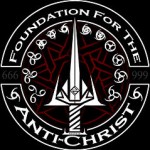 End-times radio host Jan Markell fancies herself an expert on Biblical eschatology, a designation that always makes me chuckle. It's like claiming to be an oracle for the Greek pantheon of gods, you're claiming to be an "expert" in something that does not exist. But she's been studying up and she thinks Pope Francis is the "false prophet" in their weird interpretation of the Bible that supposedly presages the second coming of Christ.

I am cautious about "pinning the tail" on the Antichrist and the False Prophet. We cannot know ahead of time who these personalities are; however, Pope Francis comes close to "filling the bill" on the False Prophet. Or he may be but a "type" of that man just like there are many "types" of the Antichrist throughout history. I think the devil has always had a candidate for the Antichrist waiting in the wings as he doesn't know when the final generation is.

The False Prophet is described in Revelation 13:11-15. He is also referred to as the "second beast" (Revelation 16:13, 19:20, 20:10). Together with the Antichrist and Satan, who empowers both of them, the False Prophet is the third party in the unholy trinity.

Pope Francis is revealing himself to be a blatant Marxist. He has also pulled back from issues Catholics have considered sacred. He apparently has replaced abortion with social justice and environmentalism. Most troubling, however, is his call for a "new world order" and that there be a global constitution, a global court and a one-world government. Scripture is clear that the Antichrist will be the head of a one-world government (Revelation 13).

Even conservative Catholics are sounding a warning that Pope Francis–the first Jesuit Pope–may be the most troubling Pope ever. He is raising apocalyptic concerns and some in the eschatological community feel that he, indeed, has gotten the nod to be the False Prophet.
Ah yes, the "eschatological community," whose track record of accuracy mirrors that of "psychics" and astrologers everywhere. The same community that has identified untold numbers of people in every single generation in the last 2000 years as fitting the bill as the false prophet, the antichrist or whatever other figures they've invented out of thin air and whose arrival they deem imminent. Their predictions and declarations should be taken with a pile of salt taller than Lot's wife.