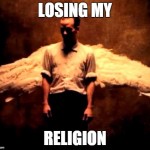 A ridiculous controversy going on in Nashville, Tennessee illustrates exactly why it is important for atheists to be out and loud if it is possible for them to be so. There's a mayoral election going on and voters are receiving robocalls telling them that Megan Berry, a liberal candidate for the position, is an atheist. So naturally, she had to come out and make a huge public show of her Christianity to counter those "malicious" allegations.

Mayoral candidate Megan Barry professed her Christian faith to a round of applause and then delivered a speech that earned a standing ovation on Monday morning in front of black faith leaders, activists, politicians and local media gathered at Jefferson Street Missionary Baptist Church.

Barry's speech was a strategic one, delivered amid rumors that she is an atheist. She also called on her runoff opponent, David Fox, to repudiate the spread of that message, which her campaign said has spread by a phone banking effort where callers warn that she doesn't believe in God…

"There have been a lot of comments from my opponent and a lot of really not nice things said about me," Barry said. "So let me just start off with, I'm a Christian.

"I was raised as a Catholic, but my faith, which was always very personal to me, has suddenly become a public conversation, which has made me uncomfortable."…

"The values I have always brought to my public service have always been a deep reflection of what I believe as a Catholic," Barry said. "When Jesus reached out to us and told us to welcome the stranger, that's what we did when we … defeated English-only. When we talk about welcoming people and helping our neighbor, and loving thy neighbor as thyself, that's what I tried to do when I served on the Homeless Commission.

"In prayer and in Jesus, we are all together in this," she said…

"My faith is something I will always take with me into the mayor's office," she said. "I know this is such a pivotal election for Nashville. We've already seen what a Super PAC will do and what a Super PAC is capable of talking about. I would like to reach out to Bordeaux, where a minister recently received an anonymous call saying I want you to make sure you tell your church that Megan is an atheist.

"That's just hurtful, and I wish we were in a place that this wasn't the kind of campaign that was going to be run, but I don't think it is. As we move forward, I need all of you to help me get out the vote.
This is why the atheist movement matters, because we still live in a society where a rumor that someone might not believe in God is "hurtful" and serious enough that it could actually destroy someone's chances of being elected to office. That's why it's so idiotic when some Christian says, "Why do you make such a big deal about being an atheist? Why would you spend your time talking about what you don't believe in?" This is why, dammit. Because anti-atheist bigotry is still widespread in this country. And until it isn't, we must continue the fight.