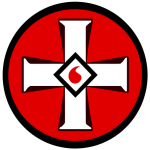 White Supremacists, at least the KKK version, tend to be as strongly anti-Catholic as they are anti-black, so their hatred for the pope is hardly a surprise. But the current pope has been calling for Europe and the United States to take in those dirty Syrian refugees, so that makes him not only a Catholic but a "race traitor" as well. So at least a few of them would like to kill him when he comes to America.

"This mofo needs a third eye, right in the middle of where his two existing eyes are," wrote someone using the handle "Freedom lover."

Another, using the handle "Peace through Stormfront," wrote, "White people need to be protected from the genocidal anti-white Pope and the genocidal anti-white religion he pushes."

The Post article was published on another white supremacist forum, Vanguard News Network, with user "John Adams" responding, "The pope deserves to be executed for crimes against the White race."
SITE reported Monday that the comments were posted to the infamous white supremacist blog Stormfront in response to a Washington Post article reporting the pontiff's call for European Catholics to shelter asylum seekers who are streaming across Europe, mainly from Syria.
Always making friends and influencing people. They do realize that the FBI undoubtedly monitors everything said on that site, right?