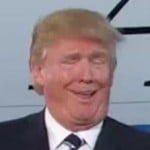 Donald Trump says dozens of stupid things every day, but this tweet from 2012 may be the single dumbest thing he's ever said:
The concept of global warming was created by and for the Chinese in order to make U.S. manufacturing non-competitive.

— Donald J. Trump (@realDonaldTrump) November 6, 2012
Yeah, I think we all recall how the vast number of studies that support global warming were published in corrupt Chinese climatology journals. I think my eyes just rolled to Beijing and back.