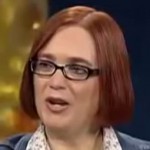 The hilariously goofy Jennifer LeClaire, editor of Charisma News, is back with three more "sure signs" that you're being attacked by witchcraft. And just like the first five, they're just ordinary, mundane, everyday things like feeling frustrated, or getting sick, or feeling tired. Because we can't possibly explain those things in any other way, it simply must be witchcraft.

1. Angry and frustrated. When witchcraft attacks, you may feel angry and frustrated. You feel like people and things are standing in your way. You may get mad at yourself, mad at the devil or even mad at God.2. Sickness, aches and pains. I've told you before that when witchcraft attacks me, my eyes burn. Sometimes my chest gets tight and I get dizzy. One of my intercessors gets terrible back pain when witchcraft manifests in her life. Another of my friends sees old stroke symptoms return. Sickness is not from God. We have authority over it, but many times we like to grumble and complain and confess how bad off we are, which only strengthens the enemy's grip on us.
Yeah, who needs all that fancy schmancy modern medicine. You have "authority" over sickness and can make pathogens magically disappear. So much for the germ theory of disease. Checkmate, atheists!
3. Just plain worn out. If you've slept eight hours, had a tall cup of coffee and you still feel like you've been run over by a truck, witchcraft could be attacking you. This is one of the ways witchcraft comes after me. I've learned not to give in by laying down for a nap that turns into four or five hours of witchcraft-induced sleep. If you are eating well, sleeping well, exercising well and living well—and if you are generally healthy—you shouldn't feel like you're walking through quicksand. This could be a witchcraft attack.
Man, I gotta get me some of that witchcraft-induced sleep.
I am not one to beat the air (1 Cor. 9:26). I don't presume to know what spirit may be attacking me by comparing symptoms to a checklist. Articles like these are meant to prime the pump of information that could spark a revelation. Ultimately, we need Holy Spirit discernment to be absolutely sure we're waging warfare against the right demon. The last thing we want to do is provoke another spirit to join forces with the real culprit. We need to put the discernment back into spiritual warfare.
God, that is so true. I can't tell you how many times I've thought I was fighting against one demon — say, Ashton Kutcher — when I really dealing with a totally different demon, or even a whole group of demons, like Chumbawumba.