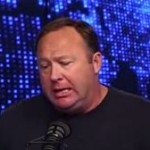 Alex Jones is reacting with his usual thoughtfulness to President Obama's new executive orders on background checks before you can buy a gun, spinning wild tales of gun owners being rounded up like the Jews were in Nazi Germany and put into concentration camps. You know, like every other time he's predicted this was going to happen in response to mundane events.

Jones kicked things off by calling for Congress to impeach the president, accusing him of putting cayenne pepper in his eye in order to tear up when he talked about the children killed in the Sandy Hook school shooting, which Jones believes was "staged" by the government. "He put something in his eye, probably pepper or something, cayenne pepper, or some oil, to cause the eye to tear," Jones said.

Jones said that these measures come "directly out of Nazi Germany," predicting that the government will soon restrict the travel of gun owners and force them into ghettos, where they will then be rounded up by government agents.

"They're coming for our guns to enslave us," Jones said. "They admit that."

He then added, or more accurately, shouted, that commentators like Piers Morgan, Michael Moore and Fareed Zakaria are "enemy, military officers" who "hold rank in the globalist system" and are given "hundreds of millions of dollars" in order "to destroy America."
And there's more!
They want false flags and they've laid the groundwork in media, in entertainment, in culture, that patriots that are promoting private property, the family, the Second Amendment and pro-life are racist scum who deserve to be racist and who are going to blow things up so they can blow things up and blame it on us.

I'm telling you, as sure as the sun came up this morning, they've got the teams on the ground, in place, waiting for the phone calls, with the trucks loaded with the plastic explosives, to blow up federal buildings, and they are going to blame me, by name, and Matt Drudge, by name, and Rush Limbaugh, by name, and Donald Trump, by name, within 20 minutes of the bombs going off, or a special-ops team from Europe shooting up a school, killing a patriot, leaving them at the scene.

I know their playbook, I know what they've done before, I know this Justice Department, and God help us is all I can tell you, God help us. This is the takeover of the republic, this is the fall of the republic.
Again? I swear, this happens every week. I'm so glad Alex Jones' predictions are never wrong.