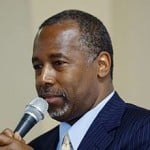 The Hill reports that in 2014, some House Republicans approached Ben Carson and asked him to be the Speaker of the House if and when they managed to oust John Boehner from that post. There is no rule that says the speaker has to be a member of the House, so there were many ideas bandied about at the time. Carson declined because he was planning to run for president.

House Republicans reached out to GOP presidential candidate Ben Carson in 2014 about replacing John Boehner as Speaker of the House, Carson told The Hill on Thursday.

"They were looking for an alternative, they were looking for someone strong and courageous who might really be able to add some spine and some backbone," Carson said. "I was very flattered that there were several members that thought I'd fit the bill very well, but I think it played out correctly the way that it did."

There is no rule stipulating that the Speaker be a member of the House.

A second source with knowledge of the situation said that in 2014 "several" House conservatives summoned Carson to Capitol Hill to pitch him on the idea of becoming the next Speaker in the event that they were successful in voting the Ohio Republican out of the position in 2015.

Carson met with the Republicans, but said he turned down their offer because he was gearing up for a presidential run.
He did say that if had become the new speaker, his main legislative priority would have been to increase American aid to Egypt so they could build more of those awesome grain storage facilities.