On his Fox News show on Tuesday, Sean Hannity cited "reports" that Russia had hacked Hillary Clinton's private email server and that they were going to release some 20,000 emails from it publicly. His source: Gateway Pundit, the legendary "dumbest man on the internet" Jim Hoft's blog. And wait till you see what Hoft's source was.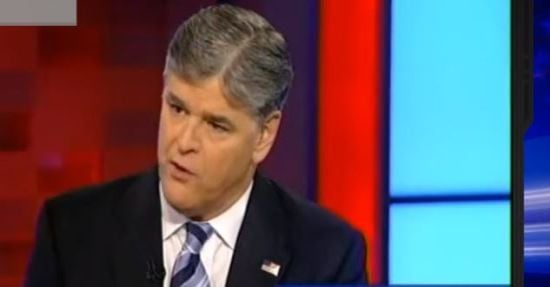 On the March 10 edition of The Sean Hannity Show, Hannity claimed that "there's a report out today the Kremlin may release 20,000 of Hillary's hijacked and hacked emails," citing GatewayPundit, Russia Today (RT), and the Associated Press (AP).

While RT and AP did not report on the claim, a post on GatewayPundit cited WhatDoesItMean.com to claim that "the Kremlin is debating whether to release the 20,000 emails they have hacked off of Hillary Clinton's server."

Currently, WhatDoesItMean.com boasts front page headlines such as "Northern England Stunned After British Fighter Jets Battle UFO," "Russia Warned Of 'Wrath Of God' Event As West Prepares To Honor New Planet With Satanic Ritual," "Music Icon Prince Dies After Obama Regime Fails To Heed Russian Warning," and "Mysterious Planet Ejected From Black Hole At Center Of Galaxy Warned Could Soon Impact Earth."
Andrew Napolitano also went on Megyn Kelly's show and made this same claim. All based on a report from a site with all the credibility of the Weekly World News. Fair and balanced? Not even close.