It wasn't only James Edwards representing the white supremacists at the Republican National Convention. There were a few others who were given passes to be on the floor of the convention and broadcast their radio shows, in addition to him.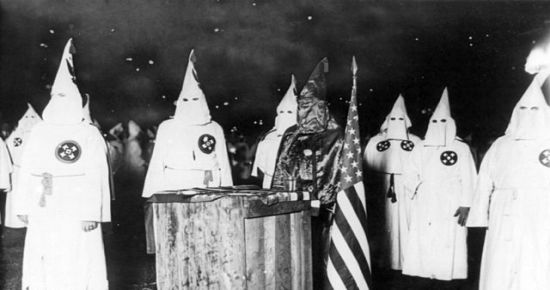 Matt Forney, a pro-Trump white supremacist who claims women "want" to be "raped" and "beat[en]," attended the second day of the Republican National Convention with a guest pass and reported live from inside the convention arena for a racist radio program…

He wrote a July 20 piece headlined "The Alternative Right Infiltrates the Republican National Convention." Forney claimed he received "guest credentials" from an unnamed "RNC contact" and was able to attend the convention on July 19. At one point, Forney says he was "invited to sit with the Hawaii delegation on the floor and observe the action up close." He added that he "filmed several portions of the vote count for" a white nationalist show.
A few of Forney's greatest hits:
"White men built America, and without them, America will die." [MattForney.com, 4/5/16]

"The children of interracial marriages are almost always fucked in the head. If I get married and have a family, it'll be with a white woman." [Twitter, 7/9/16]

"White people can handle their guns. Blacks and Muslims can't. Bring them under control and end the violence. #PrayForFlorida #Orlando." [Twitter, 6/12/16]

"The Amarillo incident is more proof that we need strict black control and Muslim control, not gun control. #prayforamarillo #prayfortexas." [Twitter, 6/14/16]

"Blacks and Muslims have proven that they can't be trusted. Black control now, Muslim control now. #Amarillo #PrayForAmarillo #PrayForTexas." [Twitter, 6/14/16]

"Mormons are white Jews: belligerent subversives who despise 'Gentiles' and work to undermine their host cultures." [Twitter, 3/20/16]

"Jews support gun control because their limp wrists make it impossible for them to shoot straight." [Twitter, 2/8/16]

"Blacks do nothing but murder cops, rob and rape people, and bring death and destruction wherever they go. #Dallas #PhilandoCastile." [Twitter, 7/7/16]

"Whites don't shoot cops. Blacks do. Bring blacks under control and the violence will end. #Dallas #PhilandoCastile." [Twitter, 7/7/16]

"Mexicans are a fifth column in the U.S. An occupying army. And our politicians let them in by refusing to enforce our laws. #MAGA #SanJose." [Twitter, 6/3/16]

"#PaulLePage is right. What, you think the old white liberals of Maine are selling heroin? It's blacks and Latinos." [Twitter, 1/7/16]

"Let's just be honest: everyone hates blacks." [alternative-right.blogspot.com, 1/3/15, via Slate]

He regularly writes virulently anti-women posts. His website includes posts with headlines like "How to Beat Your Girlfriend or Wife and Get Away with It." Forney advocates "weekly whippings," claiming: "Since most girls want to be spanked, it's extremely unlikely that she will ever consider your weekly whippings to be 'domestic violence.' Even if she doesn't like the sting of your palm, her sense of shame will keep her from reporting you to the police."

Other headlines include: "Why Feminists Want Men to Rape Them" ("Here are the reasons why feminists want to be sexually assaulted, and why they're working around the clock to aid rapists"); "Hurt Your Wife to Show Her You Love Her"; "The Case Against Female Education"; "The Myth of Female Intelligence"; "Who Cares What Women Think?"; "The Inevitability of Female Submission"; "The Case Against Female Self-Esteem"; and "Why Fat Girls Don't Deserve to Be Loved."
Gosh, he seems nice. And he's not alone:
BuzzFeed's Rosie Gray reported that white nationalist leader Richard Spencer also had received "a credential for the convention but wouldn't say how he'd gotten it, only saying he has 'friends in high places.' But he said he had continually been running into self-identified members of the alt-right around Cleveland. 'The alt right is here,' he said."

Vice News reported that white nationalist leader Matthew Heimbach, who has been supporting Trump outside the convention, said "he personally knows several other members of his group who are Trump delegates and currently on the convention floor." American Freedom Party leader William Johnson was picked as a convention delegate but resigned following criticism.
The white supremacists are pretty much unanimous in supporting Donald Trump. That fact alone should be enough to vote against him.