Every year I look forward to the March for Marriage, put on in Washington, DC by the National Organization for Marriage. I find it endlessly amusing to watch the numbers dwindle every year as they continue to make defiant speeches about how they're going to win back the right to discriminate. This year they got literally tens of people.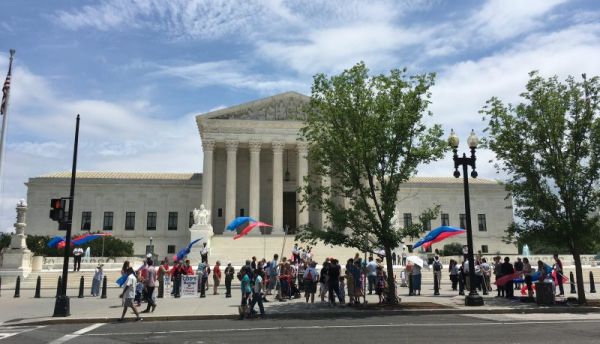 Brown told the crowd not to be discouraged by their small numbers, comparing their cause to that of abolitionists in the 18th and early 19th century.

"We are on the side of truth," he said. "We are on the side of true human rights, we are on the side of true civil rights. And in every fight for civil rights, it took a creative minority who were willing to stand up and speak truth to power no matter what the cost. And you know what? There may not be thousands of us here today. It doesn't matter. There were only a few that stood with William Wilberforce when he stood up and said 'no' to the slave trade in England. He was mocked, he was derided, he was laughed at. We remember him as a hero now, because ultimately his life's work was successful, but it wasn't successful in his own lifetime."

"Every year, we're going to be here whether there's thousands or hundreds or tens" of people, he said.

Brown insisted that the Supreme Court "did not and could not and will not change the nature of marriage" but has instead "put a lie within the law."

He warned that Americans are now experiencing the "consequences of that lie" and that "the brave new world that we predicted is happening," in what he warned was the rise of "three-person marriage" and attacks on religious liberty.

He told the crowd that he would keep working to overturn the Obergefell marriage equality decision and would be ready to advance a state same-sex marriage ban to get a case before the Supreme Court at the right time.

"The court has been wrong and wrong time and time again," he said, citing the rulings in Dred Scott, Buck v. Bell and Roe v. Wade. "And guess what? The court has overturned its own rulings that were wrong. It's going to take another justice, maybe two. It may take 20 years, maybe more. "

"I firmly believe that with God's grace, we are going to correct this illegitimate court decision," he said.
No you don't. But you know that if you don't pretend to and continue to project confidence, people will stop sending you money. In fact, that's pretty much already happened. That's why you have to keep begging for money constantly due to fundraising shortfalls. And those 37 kids you have aren't gonna feed themselves.