It's kind of fun to watch people inadvertently undermine their own arguments by revealing their bigotry. Here's a guy who filed a lawsuit over a Confederate flag being removed from a courthouse, who says that flag doesn't represent racism — then he goes on a racist rant.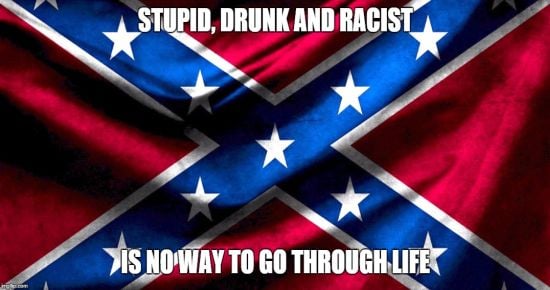 "I don't believe it's a symbol of racism," he said. I don't believe it's a symbol of slavery. Hey, I go down the street, I see Martin Luther Coon… oh, I shouldn't have said that… Martin Luther King. I mean, should I rip the signs down or insist they take Martin Luther King Street down or the rest of that stuff."
Russell Walker filed a lawsuit in York SC, demanding confederate flags be returned to the main courtroom @SpecNewsCLT pic.twitter.com/MVDYSEBIEe

— Yoojin Cho (@Yoojin_Cho) August 24, 2017
It's kind of like when they keep declaring that Confederate statues aren't about racism, and to prove that point the KKK and neo-Nazis show up to support it. Hilarious!