Guy Martin, a minister and former law professor who taught constitutional law to Christian fascist Roy Moore in law school, has an op-ed in an Alabama newspaper speaking out against Moore's candidacy. What he has to say about Moore is not the least bit surprising.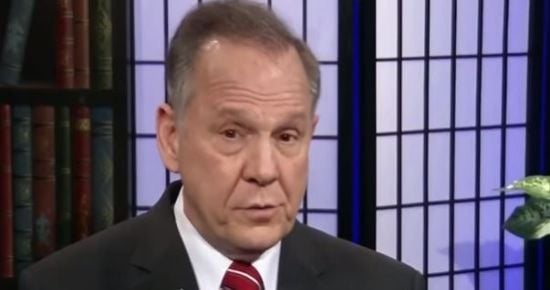 Roy Moore did not get along with his colleagues in law school or on the Supreme Court. The arguments were not over Christianity.

In law school, the arguments arose from what Disraeli called "falling into a deep groove of illogic and being helpless to allow reason to pull you out." If Moore's analysis of a case was tantamount to thinking 1 + 1 = 3, and his classmates reasoned otherwise, there was no backing down by Moore. The class was willing to fight to the death against illogic that no legal mind but one in America would espouse.

Moore never won one argument, and the debates got ugly and personal. The result: gone was the fulfillment a teacher hopes for in the still peace of logic and learning. I had no choice but to abandon the Socratic method of class participation in favor of the lecture mode because of one student: Roy Moore.
That's predictable. Anyone who has watched him over the years knew that was the kind of person Moore was, and is. He cannot be reasoned with because he is absolutely convinced that he has been chosen by God and speaks for God. There's a level of arrogance that surpasses virtually any other when you believe things like that (or if, like Trump, you believe that you are God).