I missed this story late last week but I love it. David Ermold, one of the gay people that Kentucky County Clerk Kim Davis discriminated against by refusing to issue he and his partner a marriage license, is probably going to run against her in the election next year.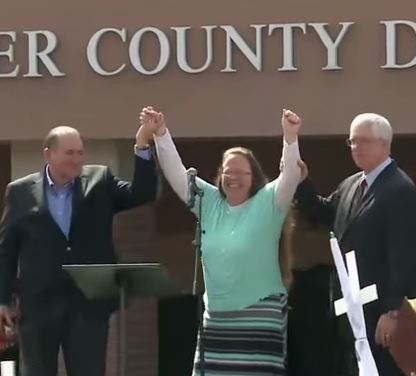 Kim Davis, the Kentucky county clerk whose steadfast opposition to same-sex marriage made her a darling of Christian conservatives, may draw a re-election opponent next year that again puts her in the national spotlight.

The Associated Press reports that David Ermold, a gay man denied a marriage license by Davis in June 2015, is "seriously considering" a run for Rowan County clerk. Davis, for her part, already has announced plans to seek another term…

Ermold hinted at his campaign plans on Twitter Nov. 10, stressing that he needed "to get a few things in order" before a formal announcement could be made.
I hope this happens and I hope he beats her by a huge margin. It would serve her right. And I hope he makes a big deal out of the fact that she refused to do her job and refused to follow the law. Also that she cost the state more than $200,000 in legal fees because of her zeal to discriminate. Then she can move on and go to work for Liberty Counsel and give talks about how persecuted she is on the Christian rubber chicken circuit.
Mat Staver, the dumbest lawyer in America not named Larry Klayman, said that she was running for reelection because, "She loves her job and she loves the people." Unless they're gay, of course. Then they aren't real people with equal rights at all.