Locked in a battle with Democrat Doug Jones for Jeff Sessions' old Senate seat and with the the polls showing a close race, Roy Moore and his allies pulled out the "race war" card — that is, they put out a commercial saying that Jones wants to start a race war.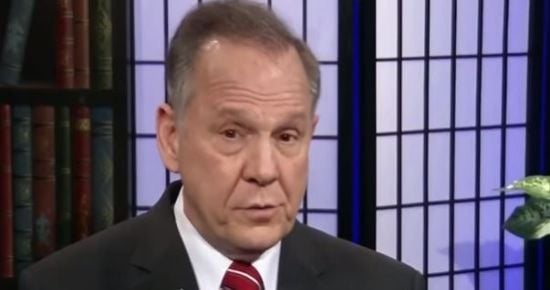 Some pro-Moore groups are taking an even more pointed approach to energize conservatives. One Moore-aligned group, Restore Our Godly Heritage PAC, is airing commercials on nearly 60 stations around the state accusing Jones of "trying to steal the election with vile, racist ads on black radio."

"Desperate to steal this Senate race, Jones and his race-hustling allies are trying to start a race war and it's only going to get worse in the final weekend, with millions of dollars in street money to turn out the vote," it adds.
That's not a dog whistle, it's a megaphone. "They're paying off the colored folks!" It's also old-school propaganda, accuse your opponent of doing what you were already doing. Does Moore really want to talk about a race war? Remember, this man is closely affiliated with the pro-slavery, neo-Confederate, white supremacist League of the South, which earlier this year
announced
it was forming a paramilitary wing to — how about that — fight a race war.
Today is the special election in Alabama. Alabama is either going to elect a Democrat, which hasn't happened since Richard Shelby switched parties, or it's going to elect a Christian Reconstructionist — read: Christian fascist — with (at the very least) white supremacist leanings.