Buzzfeed reports that former White House advisor and neo-Nazi sympathizer Sebastian Gorka has an arrest warrant out for him in his native Hungary for some sort of gun charges. The warrant was issued in 2016 and has apparently been in effect ever since, without the means to arrest him.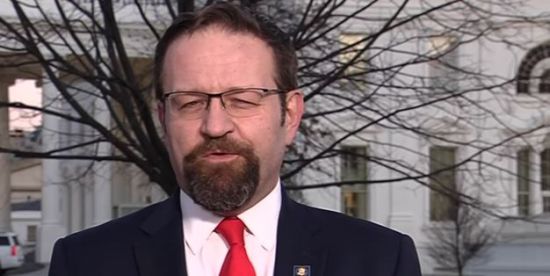 Gorka, whose exact role in the White House while serving as a deputy assistant to the president was never entirely clear, apparently is in trouble with the law over a charge of "firearm or ammunition abuse." The warrant, first reported in Hungarian online outlet 444, was issued on Sept. 17, 2016, prior to Trump's election.

That means that during the entire seven months Gorka spent in the White House, including when meeting with Hungarian Foreign Minister Péter Szijjártó in Washington last March, an arrest warrant was pending overseas.
Former Trump White House staffer Sebastian Gorka has an active warrant out for his arrest in Hungary, according to the Hungarian police's website.
You know, when Hungary sends people here, they're not sending their best. They're sending rapists, they're sending neo-Nazis, they're sending people wanted on firearms charges. And some, I assume, are good people. I assume Trump will immediately demand a wall between the US and Hungary, which they will pay for. Failing that, he will propose sanctions on the paprika industry.