Gordon Klngenschmitt has always been more than a bit logic-impaired and hysterical, but this may be my favorite thing he's ever said. He says that by demanding that businesses not discriminate against them, gay people are forcing Christians to have "perverted threesomes" with them.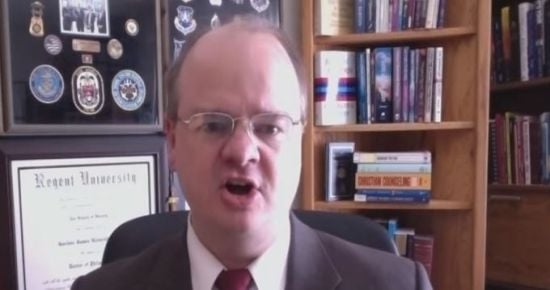 Discussing a court ruling that a Christian bakery owner in California did not discriminate against a lesbian couple by refusing to make a cake for their wedding, Klingenschmitt said the case proves that LGBTQ activists are "not content that they have somehow overturned the will of the voters twice in California who said marriage is between one man and one woman, not content that they can go to any county clerk in America—even in Alabama—and get a marriage certificate for their act of sodomy, not content that the government endorses their sin, now they have got to make Christians endorse their sin."

"This lesbian couple, like so many other activists, they are not content to have their sin in private, they have got to flaunt it in public," Klingenschmit complained. "And not just in any public, they have got to come into the Christian business owner's place of business and force them to join in a sort of perverted threesome … Those demonic purveyors of sodomy are trying to force Christians to participate and in them is the spirit of persecution."
I know, right? It's like how it's against the law for a business to discriminate against someone because they're a Christian. But are those Christians content to have their beliefs in private? Noooo. They have to go into the atheist business owner's place of business and force them into a perverted threesome! See how stupid that sounds, Gordon? I'll take you seriously on this the moment you demand that religion be removed from the Civil Rights Act as a forbidden grounds for discrimination. But I'm not holding my breath waiting for that to happen.