Famous gun fetishist and hard rocker Ted Nugent says that the most unsafe place to be is in a gun-free zone. But prior to his concert in Roanoke, Virginia Tuesday night, those with tickets were informed that they could not bring their guns into the arena. And this was no an arena policy, the directive came straight from his own management: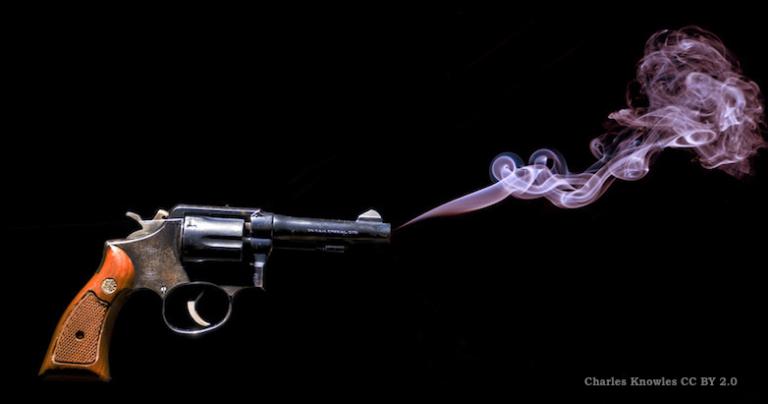 It was Ted Nugent's management that made the decision to not allow guns into the show. The Berglund Center said because it is city owned, it can't keep guns out unless the performers are the ones who request it, and that it was actually in Nugent's contract all along, but was in a sub-contract between Nugent and his promoter that wasn't shared with Berglund Center management until the last minute.

"It happened about five minutes before we opened doors, we had a security meeting before we opened doors and the subject came up and we said, 'Yes people will be bringing firearms,'" Berglund Center General Manager Robyn Schon said. And Nugent's people said, "Uh, no, our agreement says no.'"

A long line had gathered outside the doors waiting to get in when security came out and made the announcement that there had been a change in plans. Guns would not be allowed in, pat downs would be performed, and anyone with a gun would be asked to take it to their car.

"Given the things that have happened in nightclubs like the Pulse and what happened in Manchester, (Nugent's) security people are taking extra precautions," Schon said. "They are not novices; they are very seasoned people."
But if Nugent, who is on the board of the NRA, actually means what he says about the dangers of gun-free zones and how the solution to gun violence is more good guys with guns, those extra precautions should have been handing out guns at the show. After all, that's how they say you keep yourself and others safe! More guns! More good guys with guns! The NRA convention every year also forbids attendees from bringing their guns. And all those conservatives in Congress who get hug amounts of money from the NRA also don't allow guns in their townhall meetings or their offices, they have metal detectors set up to prevent it.
It's almost — almost — as if they know they're lying, that they know they're full of crap on this subject and are perfectly willing to put your life at risk but not their own lives. Almost. Kind of. Sort of. No, it's exactly that.