Everyone in the known universe is trying to figure out who the identity of the "senior official" in the Trump administration who wrote that anonymous op-ed piece in the New York Times. There's been a lot of speculation and everyone seems to think they know who it is. I'll add my analysis to the flood.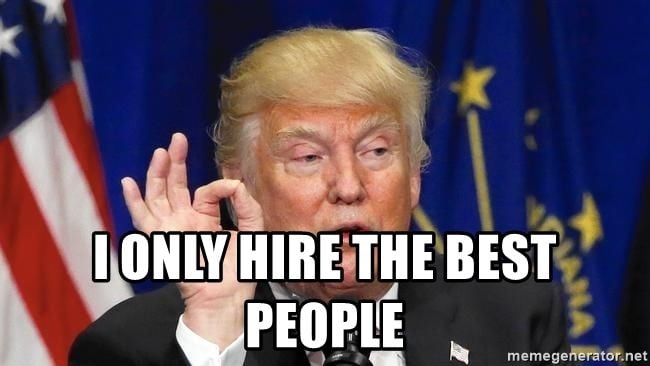 Bookies are actually taking bets on who it is and offering odds. MyBookie has Pence as the favorite at 2-3 odds. They say they think the use of the word "lodestar" is the key clue, as many others do too. Here are the other odds:
The other 17 named potential moles, listed by MyBookie, are: Education Secretary Betsy Devos (2-to-1), Secretary of State Mike Pompeo (4-to-1), Treasury Secretary Steven Mnuchin (4-to-1), chief of staff John F. Kelly (4-to-1), Defense Secretary Jim Mattis (5-to-1), Attorney General Jeff Sessions (5-to-1), Interior Secretary Ryan Zinke (6-to-1), Agriculture Secretary Sonny Perdue (6-to-1), Commerce Secretary Wilbur Ross (7-to-1) Labor Secretary Alex Acosta (7-to-1), HHS Secretary Alex Azar (8-to-1), HUD Secretary Ben Carson (8-to-1), VA Secretary Robert Wilkie (8-to-1), Homeland Security Secretary Kirstjen Nielsen (10-to-1), Ivanka Trump (12-to-1) and Jared Kushner (12-to-1).
Bovada has Jeff Sessions as the favorite at 5-2, and the rest:
Pence (3-to-1), Kelly (4-to-1), Mattis (4-to-1), UN Ambassador to the UN Nikki Haley (10-to-1), "Javanka" (15-to-1), Director of National Intelligence Dan Coats (15-to-1), White House counsel Don McGahn (15-to-1), Melania Trump (50-to-1) and White House counselor Kellyanne Conway (50-to-1).
If it is a big name we'd all recognize — and I doubt that it is — I think the most likely are Sessions, Coats, Nielsen and Kelly, in that order. But I suspect it's none of those people. I think it's more likely someone below that level, someone at the deputy assistant level or thereabouts. And because the only negative issues that are mentioned in the article are national security issues, I would say it's likely to be someone who works in that field. The deputy chief of staff for the National Security Council, for instance. I don't even know who that is, and that's kind of the point. Perhaps someone in the leadership of the CIA, FBI or NSA, but not the actual directors.
We'll eventually know who it is, I think. And I suspect it will end up being someone few people even know about.